Old Dude Makes Incredible Catch on Home Run at Wrigley, Throws Back Dummy Ball (Video + GIF)
Yesterday at Wrigley Field, Brewers first baseman Mark Reynolds crushed a 94-MPH fastball from Cubs pitcher Jake Arrieta, sending it into orbit on a trajectory headed for Waveland Avenue.
However, that ball never touched down on Waveland Avenue. And the reason for this is that an older gentleman wearing a Cubs jersey (tucked snugly into his jeans) leapt up and made an absolutely ridiculous catch. Then he reached down, picked up the dummy ball he brought with him to the bleachers, and threw that one back onto the field.
It was easily the best play by anyone wearing a Cubs jersey this year. In fact, this dude is probably the best Cubs outfielder since Andre Dawson.
Here's the video:
And, for those of you who are too busy to watch two minute videos, here's the GIF: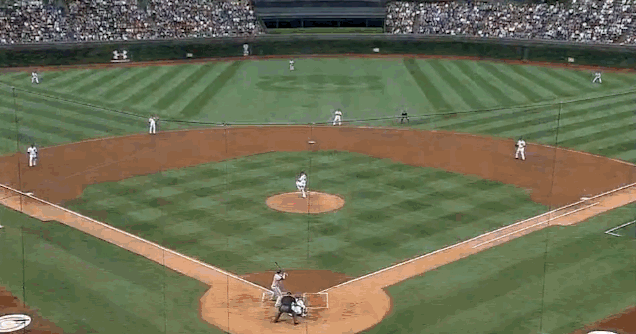 Don't let the black jeans and sensible New Balance walking shoes fool you. This man has swagger.
He's my new hero.
Hat Tip – [Deadspin]
Tags:
Comments