Johnny Manziel Corrupts Youth of America, Gives Washington Sideline the Finger (GIFs)
Richie Incognito is a walking dictionary of racial and homophobic slurs, Jim Irsay was arrested with a suitcase full of narcotics and $29,000 in cash, Ray Rice punched his wife, and Aaron Hernandez executed three people.
You would think, at this point, it would be pretty hard to scandalize NFL fans. But no. During their preseason game on Monday night, Cleveland Browns quarterback/party animal Johnny Manziel extended his middle finger—that's right, his middle finger—in the direction of the Washington Racial Slurs sideline, and today that's pretty much all anyone is talking about.
If you think you can handle the shock of seeing one pro athlete tell another pro athlete to %#$& off, take a look:
And here's the exact moment Browns PR guy Rob McBurnett gave Johnny the bad news that everyone saw him give Washington the finger, and that he'll now be subject to a $11,025 fine. His reaction is priceless: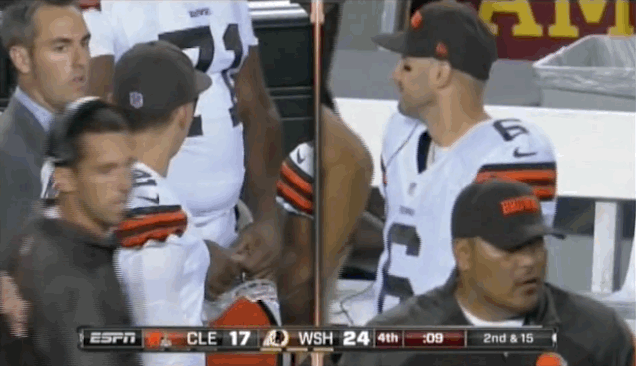 After the game, Manziel said his gesture was regrettable, calling it a "lapse of judgement" and a "slip up." Meanwhile, Washington linebacker Brian Orakpo, who apparently had been shouting at Manziel from the sidelines all night long, called it "hilarious."
Come on, guys. Think of the children.
Tags:
Comments