Watch Tom Brady Slap Gronk Upside the Head Out of Love (GIF)
by: Esteban On Monday, September 8, 2014
Remember last year when nobody on the New England Patriots sideline wanted to high-five poor Tom Brady? Well, it turns out that wasn't an accidental oversight. Tom's teammates were probably just afraid the legendary QB would slap the sh*t out of them.
You see, in the second quarter of yesterday's Pats-Dolphins game, just after Brady connected with Rob Gronkowski to give New England a 17-7 lead, Mr. Bundchen went over to Gronk to express his gratitude. Then, in the course of doing so, Brady got so worked up that he headbutted and slapped his favorite tight end. Hard.
Take a look: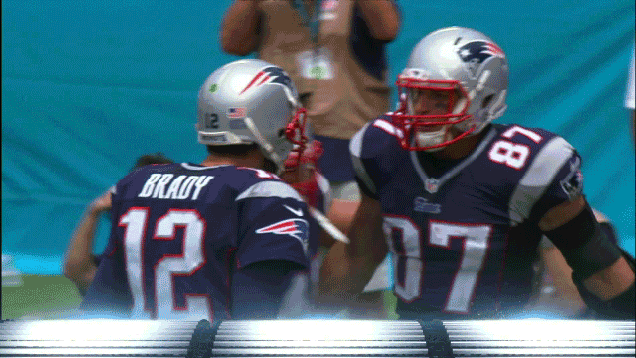 Yeah, it's fun to score touchdowns and whatnot, but it's a long season. Tom should probably dial it down a notch or else he (and Gronk) are going to burn out just like they did in this game.
Oh, what, didn't you hear? The Dolphins scored 23 unanswered points in the second half and won the game 33-20.
Haha.
Hat Tip – [Deadspin]
AWESOME STORIES FROM THE WEB
LATEST STORIES