Rueben Randle Makes a Sweet One-Handed Catch Vs. Cardinals (GIF)
Rueben Randle is the early front-runner for "catch of the day" with this one-handed endzone grab. The catch came in today's game between the New York Giants (obviously) and the Arizona Cardinals. New York has something to prove following last week's weak performance agains the Lions, and Rueben Randle certainly seems to be doing his part, grabbing this Eli Manning pass over coverage for 6.
We've got the GIF, courtesy of BroBible and SB Nation. Want to take a look? Here ya go: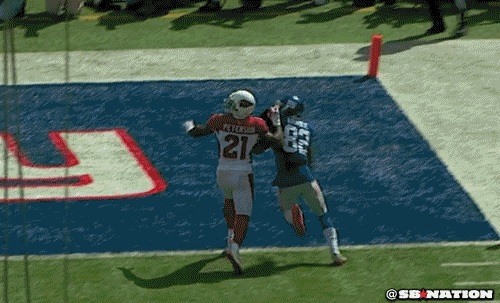 That's some quality football right there. And after the week we've had, we could use some decent football plays free of drama or context. I'm sure the Cardinals are hoping that they can get a couple in their favor, too, but we don't care about the source. Actually, that's not true. Any time we get the opportunity to see a mad Tom Coughlin, we'll take it.
(Mad Tom Coughlin=Every Tom Coughlin)
For those wondering who Rueben Randle burned, it was Cardinals cornerback Patrick Peterson, regarded as one of the league's best. And honestly, that was a world-class job of covering the play, but when things go perfectly between a QB and his receiver, there's not a whole lot you can do to stop it.
Tags:
Comments