Cadet Saves Reveille VIII, the Texas A&M Collie, from Getting Trampled (GIF)
In case you didn't know, Texas A&M is one of six officially designated Senior Military Colleges in the United States. That means they offer an extensive ROTC program, and about 2,200 students belong to a Corps of Cadets, meaning they live a military lifestyle subject to military-style discipline.
The official purpose of the Corps of Cadets? To produce educated military leaders, of course, and about half of all cadets go on to accept actual military commissions.
The unofficial purpose of the Corps of Cadets? To take care of Reveille VIII, the Texas A&M collie who is the Corps highest ranking member. (Not kidding. The dog is officially the highest ranking member of the Texas A&M Corps of Cadets.)
And on Saturday, one upstanding cadet put his physical well-being on the line to protect his superior officer—his superior officer who, again, is a dog.
You see, the Aggies were in Dallas playing the SMU Mustangs and Reveille VIII was taking a little rest on her cushy little bed to the left of one of the end zones. Suddenly, a Mustangs player got knocked out of bounds and hurtled uncontrollably toward the defenseless, lounging dog.
However, just when you thought we were going to have to get a Reveille IX, an A&M Cadet came to the rescue.
Take a look: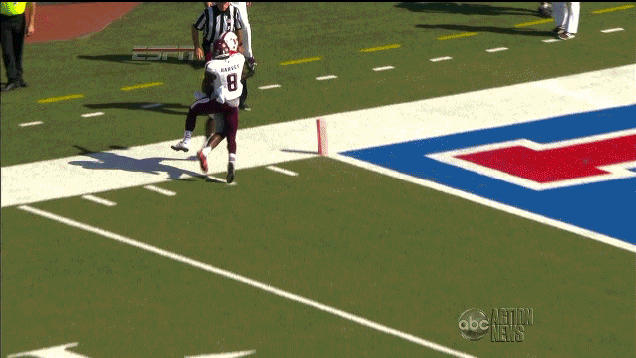 Nice block, cadet. Now, as you were, or whatever.
Hat Tip – [CBS Sports]
Tags:
Comments