Colts Punter Pat McAfee Recovers His Own Onside Kick Against Texans (GIF)
Colts punter Pat McAfee managed to make an interesting play in what was (gasp!) an interesting Thursday night football game. The Colts squared off against the Texans, and while the Texans were never able to close the gap after trailing 24-0 in the first quarter, they were able to make a game out of it, which is something that we haven't really seen on a Thursday night this season.
Perhaps the most interesting play of the game came when Colts punter Pat McAfee booted an onside kick, then ran to fall on it himself. It's funny because anything punters do is funny, but also because in the GIF and screenshot, it looks like the Colts punter is the only person on the field—like some sort of deranged 8 year-old throwing the ball to himself.
Here's the GIF. It's totally okay to laugh at it: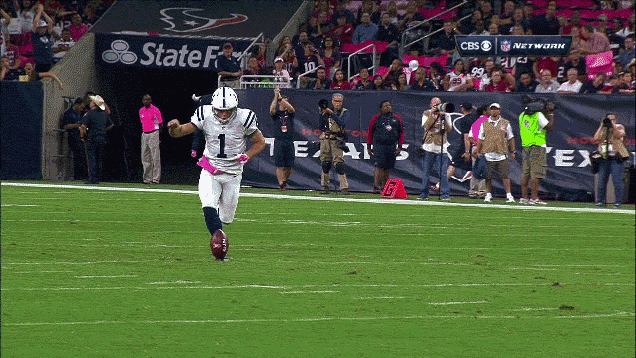 Seriously. It's pretty funny. I mean, look at how prepared he looks to catch it when he turns around.
Tags:
Comments