The Marshawn Lynch Crotch Grab Returns in the NFC Championship (GIF)
by: Penn Collins On Monday, January 19, 2015
There weren't many opportunities for the Marshawn Lynch crotch grab to make an appearance in the NFC Championship game. I mean, the Seahawks were lagging in a low-scoring game until the fourth quarter, and when they DID finally take the lead, it was some last minute work before a quick overtime win. However, the Marshawn Lynch crotch grab was a high priority for the Seahawks running back, so he managed to make the time.
The move came late in regulation as Lynch scored a TD that gave the Seahawks a 22-19 lead (following a two-point conversion) with less than two minutes remaining after they had recovered a desperation onside kick.
It takes a fair amount of swagger to grab your crotch during a close playoff game, but this is a guy who roped off his Lamborghini when he parked it. That is to say, Lynch has a few tricks up his sleeve.
Take a look. Just don't stare right at it. It's like an eclipse: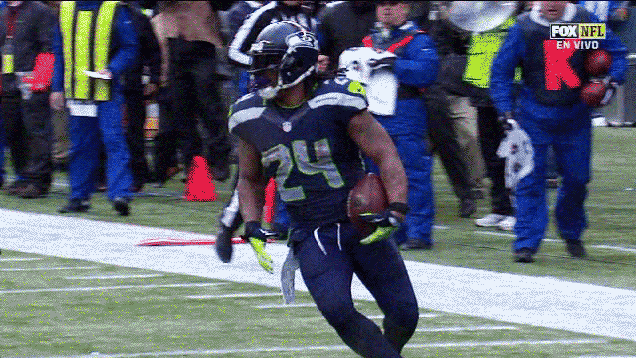 So we're clear, he's too shy to talk to the press, but not too shy to do this. What a fun little dichotomy!
AWESOME STORIES FROM THE WEB
LATEST STORIES