Where Will The Rest Of Baseball's Free Agents Land?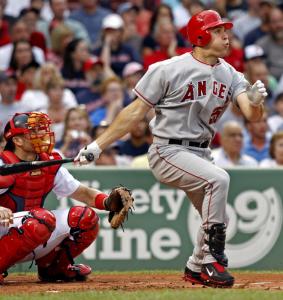 Total Pro Sports – So far the New York Yankees have flashed huge money at free agents, well over 200 million dollars to be exact, but don't take that as proof that Baseball is safe from this economic recession we are going through. The Yankees may have shelled out that kind of outrageous money, but realize that their payroll is actually going down heading into 2009. Once Mark Teixeira signs look for players to have to settle for a lot less than what was first expected.
Let's take a look at who's still available, where they might sign and for how much.
Mark Teixeira, First Base – Teixeira has the best agent in the game in Scott Boras, but even he can't get clients what they want in this economic time. He tried to bluff the Red Sox and it seems to have backfired. The Angels have stated they are out of the running because Owner Arte Moreno (easily the best owner in all of baseball) feels he's being used by Boras to drive up Teixeira price. Teixeira has stated he wants to return closer to home on the east coast. This leaves the Orioles, Nationals and dark horse Yankees as teams in the running. Only the Yankees in that group offer a chance at winning in the near future other than the Red Sox.
Who he will sign with? New York Yankees or Boston Red Sox
The Yankees have to realize that if they sign Teixeira, it leaves the Red Sox with no other option on the market who will make a significant impact. The Sox will not sign Manny, who is the only other big power hitter on the market. If the Yankees were to sign Teixeira they would deal a serious blow to the Sox, and easily regain the pre-season edge in the AL East. On the other hand the Red Sox have to realize this as well, but the current economy might not allow them to make the final push to get this deal done.
What Money he will get? 7 years $160 Million, I don't think he will get the 180-200 Million he desires.
Manny Ramirez, Left Field – Manny may have dominated the NL West in the second half of the season, but what he did in the first half with the Red Sox seems to have teams unwilling to offer him the money and years he desires.
Such antics as physically fighting with a Red Sox travel secretary in his 60's, fighting with Youkilis in the dugout, not playing as hard as he could, faking an injury to not play a division rival, have turned teams away from pursuing him. I have the distinct feeling Manny is going to wish he had those two 20 million dollar options that he so desperately wanted out at the trade deadline. I've read that he's looking for a 4 year $100 Million dollar deal. I can almost guarantee you that he will not get that amount or years.
Who Will Sign him? New York Yankees, Los Angeles Angels Of Anaheim or Los Angeles Dodgers
When the end of the season neared, teams such as the Blue Jays and even the Rays were mentioned as possible destinations, but then the recession happened and those teams had no chance of throwing their money at him. Furthermore teams don't want his distraction or the very real possibility that he will mail it in once he signs that contract. Only the Yankees or the Angels will satisfy his dollar amount, and even the Angels seem like a very remote possibility now that they have resigned 4th outfielder Juan Rivera. In the end it looks like it will be up to the Dodgers or Yankees.
What he Will get? 2 years $45 Million dollars plus a team option at $25 Million.
Teams are not stupid to fall for Manny being Manny anymore. He will get a little bit more than what Red Sox were going to pay him as well as team options at a higher salary to make sure he stays focused on putting up numbers.
Derek Lowe, Staring Pitcher – Now this guy even at 4 years older than AJ Burnett should be given more money than him, simply because he is reliable and doesn't just one good year in a contract year.  He gives 150% and is reliable every start.
At the beginning of free agency Lowe was looking for 90 million dollars, that has significantly shrunk. He is very keen on moving back to the East Coast so don't expect to see him returning to Chavez Ravine, the Dodgers already know he's not coming back.
Who will sign him? Boston Red Sox
I don't see him signing with the Yankees. Even though he left his wife for a reporter, he seems like a guy of honour when it comes to the Red Sox/Yankee rivalry. Too be honest I have no idea where he will sign. A lot of teams can use him but at the moment it's tough to figure out which general managers have the permission to go out and sign players. The Blue Jays could use him, and are interested, but would have to clear money somehow to sign him, and even then, it will be difficult. Look for him to rejoin the Red Sox for a fair deal but nowhere near what he thought he would have gotten.
What he will get? 2 years $26 million.
Brian Fuentes, Relief Pitcher – I feel sorry for this guy. He's put up nice numbers in his career no matter which bullpen role a team has given him and this should be his one big contract that he gets. Unfortunately not only is he suffering from a recession but also a glut of Closers on the market. Not only that it doesn't seem the big market clubs are in need or interested, which would have been nice considering they could have driven up his price.
Who Will sign him? Los Angeles Angels Of Anaheim, Milwaukee Brewers or St. Louis Cardinals
All are in need of closers and it's close to certain one of these 3 will sign him. He was looking for 30 plus million and won't be getting that.
What he will get? 3 Years $20 million dollars
Adam Dunn, Outfield – He strikes out a lot, isn't great defensively but he has hit at least 40 home runs every year for the past 5 years.
Who will sign him? Washington Nationals
Should be more interest but the strikeouts, defence and his rumored lack of heart will all factor against him.
How much he will get? 4 years $40 million
Bobby Abreu, Outfield – Always seen as a complementary player and not a star, yet his base speed, average and above average power leave him as what could be a steal in this free agent market.
Who Will sign him? Chicago Cubs
Fukudome hasn't worked out, if the Cubs get the go ahead to spend, he should be headed there.
What he will get? 2 years $20 million
Jason Giambi, First Base (DH) – He's 38, but still puts up power numbers. He will be lucky if he gets a 2 year guaranteed deal.
Where he will go? Tampa Bay Rays or Oakland Athletics
A reunion with the A's seems likely, but I could see him going to the Rays, they could use his bat.
What he will get? 1 year $6 million plus an option
Ben Sheets, Starting Pitcher – He's injury prone, but pitched just under 200 innings last year and his career ERA is in the 3.50 area. His history of injuries will leave him with limited leverage on anything past 2 years guaranteed.
Who Will sign him? New York Yankees or ??
If the Yankees resign Andy Pettitte then there is no guessing where Sheets will go, a lot of teams can use him.
What he will get? 1 year $8 million plus a team option at $12 million
These pay day numbers are purely speculative and it's unsure with the current market being unstable if they will even get that or if they will get significantly more. If I'm an agent or a player I am not waiting around too much longer. They may think that the longer they wait the more desperation teams will have once Manny, Teixeira, Fuentes and Lowe are off the market but teams simply don't have money to spend.
Players should be taking what they can get on 2-3 year deals in order to secure a decent financial package while keeping their options open in a couple years to see if the economy improves. Here's a list of players who I think can count on deals of less than $6 million per season, with less than a 3 year commitment. All the players below mentioned were surely looking for more than 6 million for a season's work.  Orlando Hudson, Brad Penny, Milton Bradley, Pat Burrell, Orlando Cabrera , Jon Garland, Trevor Hoffman, Randy Johnson, Pedro Martinez and Randy Wolf.


Tags:
Comments