Ryan Grant Loses $1.35 Million On Replay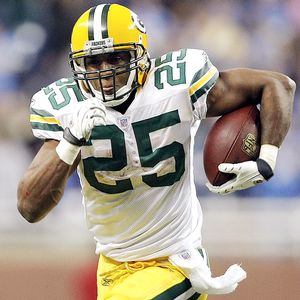 Total Pro Sports – Is instant replay good for the game of Football or bad for the game?
We honestly think that Instant Replay has helped the NFL game 100%, but even then referees still make some mistakes using all the different camera views.  The instant replay in the NFL has cut down on all the errors ref's would make without the replays.
This past Sunday it wasn't a team getting shafted from an ill review by a ref it was a player.  Green Bay Packers runningback Ryan Grant had just run for a 80 yard touchdown in the third quarter against the Detroit Lions, but instead referee Ed Hochuli overruled the play using the instant replay and turned it into a 21 yard rush.
Because Ed Hochuli overruled the play it cost Ryan Grant a Bonus of $1.35 million all figures in U.S. dollars.  This is how it breaks down,
Grant could have earned a $1.5 million bonus if he reached 1,250 yards for the season. He only earned $500,000 for finishing with 1,203
Grant also could have earned another $600,000 for placing in the top five among NFC rushers.  Grant finished sixth – 35 yards behind Matt Forte of the Bears – to pocket $150,000.
Grant didn't seem to mad in losing out of his $1.35 million (I know I would, wouldn't you?), he took it like a man.
"Yeah, that's the way the ball bounces," Grant said. "I told (running backs coach Edgar Bennett), 'If we were playing in your day, that's a touchdown. No replay.'"

"I've been playing football a long time, I run to the whistle," Grant said. "I saw the ref running with me, saying 'Grant, you weren't down, keep running.' When I got to the end zone he said, 'Good job, you weren't down.' I was like, 'There you go.'

"He was running by the sideline, I wasn't talking to him. He's like, 'No, no keep running.' …First time a ref ever said anything to me."
You see kids, play for the love of the game and not the money.  Ryan Grant could have cried all day about losing out, but he took it like a man and realized there is always next year to achieve the goal he missed.

Tags: