Cavaliers Lose First Game At Home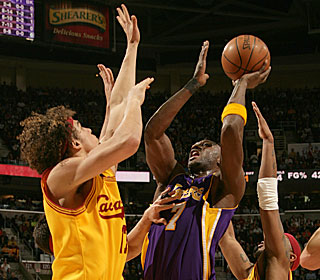 Total Pro Sports – Even with Kobe Bryant suffering from the flu, the Los Angeles Lakers were able to go into Cleveland and beat the Cavaliers 101-91 handing them their first loss of the season on their home court.
What may just be a possible NBA finals match up we were treated Sunday night to a fantastic game.  Lakers guard Kobe Bryant was vomiting before the game, shivering with chills throughout and needing intravenous fluids at halftime but he still managed to have a decent game dropping 19 points.
Teammate Lamar Odom on the other hand had his best game of the season scoring a game high 28 points and adding 17 rebounds.  With consistent production like this from Odom and the addition of Adam Morrison it will be scary for opponents to see how they will match up against the Lakers in future games.
"That was one of the best games he's played for us," Lakers coach Phil Jackson said of the enigmatic Odom. "He's had some spectacular games, but that was a terrific game. It was the total package of his game. He broke people down with his speed and quickness to the basket and got some easy shots." (Sportsline)

LeBron James was a horrible 5-20 from the field and his Cavaliers were held to 34-87 and 39% shooting on the night.  Against the Lakers you better be shooting 47% from the field and making your 3's or else you won't have a shot in the game.  The lone bright-side on the night was Zydrunas Ilgauskas he had 22 points and 9 rebounds.
Ranked #2 the Lakers and #3 the Cavaliers in our NBA Power Rankings, you can bet these 2 teams will be fighting it out for the rest of the season.  What possibly may just be an NBA finals match up, you can bet the Lakers are not gonna go down without a fight especially after losing to the Celtics in last years NBA finals.
Tags: