Steve Nash Drops 21 Dimes And Is Not All Star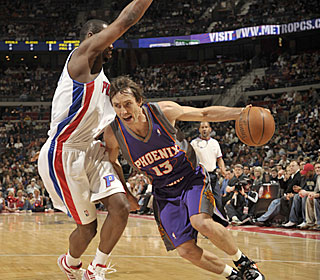 Total Pro Sports –  Last night brought a flashback of the old Steve Nash that won back to back league MVP's.  Nash had 15 points and 21 assists in the game and helped his Phoenix Suns past the Detroit Pistons 107-97.  Steve Nash the 2009 NBA All Star snub is off to a good season statistically, averaging 14 points, 10 assists and 4 rebounds per game.  Again leading his Suns team to a winning record that now stands at 28-21 overall.
The two-time MVP was snubbed from the All-Star team this season in what is probably more of a reflection of playing for Terry Porter instead of Mike D'Antoni.

"Who's been down on Steve Nash?" Detroit's Allen Iverson asked. "He's definitely an All-Star, and he's still playing like an MVP." (Sportsline)
It crazy how a player like Steve Nash is not playing in the NBA All Star game this year, it makes us sick to our stomach that he was left off the team.  Even All Star guard Allen Iverson spoke his frustration to the press and told them that Nash should be an All Star.
Imagine not having Michael Jordan on the Eastern All Star team, this would never happen.  How can you possibly leave off a 2 time NBA league MVP is the question?
You can bet that Steve Nash and his fans are upset as we are.  Hopefully the NBA will have this mistake corrected so that next time a future Hall Of Famer does not get left off a team that he should be on.

Tags:
Comments