The Stat Line Of The Night – 3/9/09 – Dwyane Wade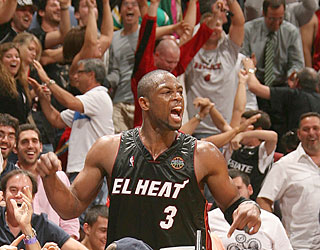 Total Pro Sports –  The Miami Heat beat the Chicago Bulls 130-127 in a double over time thriller.  Lead by their All Star Dwyane Wade who scored 46 points, 4 rebounds, 12 assists in 50 minutes and made 15 of 21 field goals for a scorching 71%, ultimately making him "The Stat Line Of The Night" for Monday March 9th, 2009.
"Mr. Dwyane Tyrone Wade Jr., if he's not legitimately considered for an MVP candidate, I don't know what he needs to do," Heat coach Erik Spoelstra said. "We are currently a playoff contender and night after night, he's making incredible plays like this."
After tonight their is no doubt in our minds that Dwyane Wade is a legitimate NBA MVP Contender.
Wade scores 48, buzzer-beating 3 as Heat edge Bulls in 2OT – [SportsLine]

Tags:
Comments