The Stat Line Of The Night – 3/10/09 – Steve Mason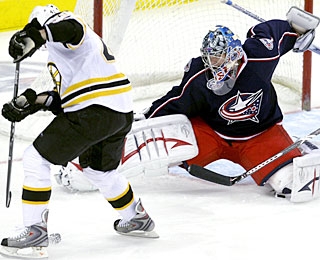 Total Pro Sports – The Columbus Blue Jackets continued their winning ways and their remarkable season last night beating the Boston Bruins in Boston 2-0.
Lead by their star goaltender Steve Mason and his league leading 9th shutout of the season.  Steve Mason is "The Stat Line Of The Night" for Tuesday March 10th, 2009.
"It's fun playing this time of the season when hockey means something," he said after stretching his goal streak to three games with a seeing-eye empty-netter that clinched the outcome. "We're not used to this. We're used to just playing for our fans right now. Right now there's a bigger picture and we're excited to be playing."
Be sure to keep an eye out for this kid he will definitely go on to win the Vezina Trophy and Rookie Of The Year awards this year and maybe just maybe if he leads his team into the playoff, he have a shot at winning the NHL MVP award.

Jackets netminder Mason stops Bruins to earn league-best ninth shutout – [SportsLine]

Tags: