Rafer Alston Likes Eating Popcorn During The Game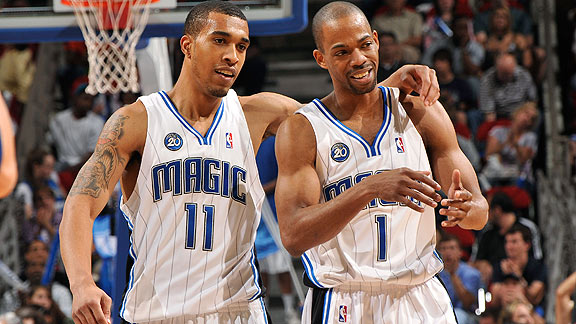 Total Pro Sports – Last night the Orlando Magic clinched a playoff spot after beating the Chicago Bulls 107-79.
"Tony Battie had 18 points and eight rebounds, and the Orlando Magic got a big boost from the bench to clinch a playoff spot with a 107-79 win over the Chicago Bulls on Wednesday night.  J.J. Redick had 13 points, and Marcin Gortat added 13 points and 15 rebounds in reserve for the Magic, who have won five of their last six games and moved closer to taking another Southeast Division title."
But the most exciting part of the game didn't come until the third quarter when Chicago Bulls guard John Salmons jumped into the stands chasing for a loose ball and knocked over a couple fans. Magic guard Rafer Alston came to the rescue and picked up one of the fans popcorn that had been knocked over.
"Then Alston ate a handful, smiled and hustled down court."
Take a look at the video below and watch the Rafer Alson enjoy his popcorn.  The little clip comes to the end of the video.

Magic clinch playoff berth with 107-79 win over Bulls – [Fox8]

Tags:
Comments