The Stat Line Of The Night – 3/11/09 – Joe Johnson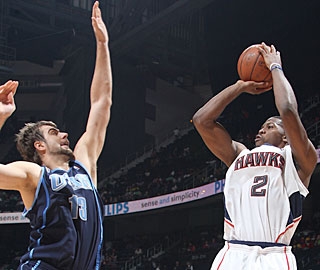 Total Pro Sports – The Utah Jazz looked to stay unbeaten and keep their winning streak alive when they traveled into Atlanta to take on the Hawks.  Unfortunately the Utah Jazz' 12 game winning streak was halted in Atlanta on Wednesday night, as the Jazz lost 100-93.
The Atlanta Hawks were lead by none other then guard Joe Johnson who had 31 points, 9 assists and 3 rebounds making him "The Stat Line Of The Night" for Wednesday March 11th, 2009.
"This shows everybody in the world the Hawks are for real," Smith said. "They have to take the Hawks seriously. Utah is an outstanding team. We played the best in the West and were able to beat them."
9 games over .500 the Atlanta Hawks are a team on the rise.  Their time to win win it all may not be now, but in a couple of years if they can keep the core of the team together I wouldn't doubt they could compete for an NBA Championship.

Johnson drops 31, Smith 22 as Hawks end Utah's 12-game winning streak – [SportsLine]
Tags:
Comments