Jay Cutler Wants Out Of Denver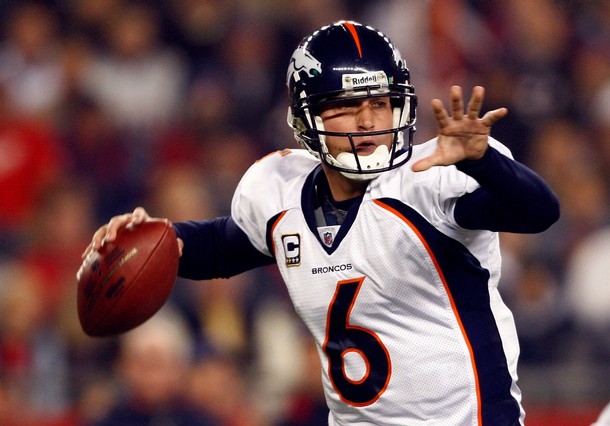 Total Pro Sports – It looks like Jay Cutler is done in Denver. He failed to show for an offseason meeting, and team spokesman Jim Saccomano confirmed that "Cutler has requested a trade". Cutler had become disillusioned with head coach Josh McDaniels after he was seemingly bundled off to Tampa in a three way trade that would see Matt Cassel become a Bronco, and not even weekend crisis talks could save their relationship. That's the story that Cutler will tell, but reports have also surfaced about Cutler wanting out for weeks since Denver QB coach Jeremy Bates left for USC, and that he's levering the Tampa drama to his advantage. Either way: he won't be a Bronco come the draft.
If he goes, the Broncos have to jump on Mark Sanchez or reach for Josh Freeman in the draft. It's a terrible position to be in because they won't be able to pick from the glut of defensive players that they will need so badly for their new 3-4, but I have little sympathy. You don't downgrade a talented young QB for a one season wonder, who struggled down the stretch to the extent that New England were forced into shotgun gimmickry. If I'm a Denver fan then I'm giving McDaniels a fail for his first big test.
As for Cutler there has to be interest, so let's try and pare this down a little. Detroit will have the perfect offer on the table with their number 20 draft pick and would love Cutler's big arm throwing deep to Calvin Johnson, but I in no way see Cutler going for this deal. He's young, hungry and ambitious and Detroit won't see the playoffs inside of his career. I feel like the Jets are a little trigger shy on grabbing a new QB and you get the sense they're happy to have Brett Ratcliff and Chris Clemens compete for the job pre-season. The Bucs want him (that's how we got into this situation) so I make them early favorites, but are they soured with McDaniels and GM Brian Xanders because of the Cassel fiasco? You have to believe Minnesota jump at him, but management will be left with egg on their face if the pricey Sage Rosenfels is left on the bench all year.
But how about some surprise moves: what if Denver and Philadelphia were to work out a deal, involving McNabb, Cutler and the Eagles' third? Denver wouldn't have to spend a pick on a QB and could focus on rebuilding that defence, whilst Philadelphia could move on from McNabb like they've been promising to do for seasons now. Or how about a total shocker move from the Browns? Eric Mangini isn't enamored with Brady Quinn, and McDaniels may just be crazy enough to do a straight swap deal. It's also worth considering that McDaniels and Mangini have a working relationship from their time in the New England fold; Mangini was McDaniels' boss in 2003.
A lot of criticism is heading Cutler's way for being petulant and whiny, whilst McDaniels isn't doing himself any favors by chasing out the man considered the second coming of John Elway by Denver fans. If the Broncos' season falls apart next year, he may never live this decision down.

Tags:
Comments