Barack Obama Fills Out His NCAA Brackets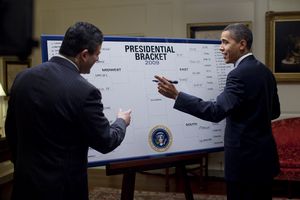 Total Pro Sports – President Barack Obama on Wednesday came through with his promise to ESPN.com's Andy Katz and filled out his NCAA Tournament Bracket, he made the promise to Katz if he were elected as President Of The United States.
The President who is a huge sports fan has been spotted at the Washington Wizards game this year enjoying a beer, he has also made an appearance on Monday Night Football and it has been reported that Obama has made recruitment calls for his brother-in-law who is the coach Oregon State Beavers basketball team.
"President Obama made his picks as a sports fan, not as a politician," Katz said. "He was knowledgeable about the teams and was even up to date on the latest injuries involving the contenders. He was confident with his picks and delivered an on-camera pep talk for the team he picked to win it all. It was clear that he enjoyed filling out his bracket like the rest of America."
So if you ever thought office/fantasy pools were illegal you can now rest easy because the President of the United States Barack Obama plays fantasy sports just like you and me.
Tags:
Comments