The Stat Line Of The Night – 3/17/09 – Martin Brodeur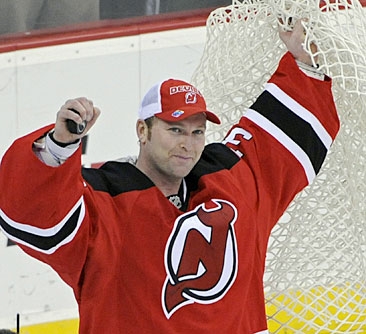 Total Pro Sports – On this day Martin Brodeur takes sole possession of first place for most wins by a goaltender in NHL history.
On Tuesday night he surpassed Hall Of Famer Patrick Roy for all time wins with his 552 carer win at home against the Chicago Blackhawks.  Brodeur's 552 career victory comes in his 15th year in NHL and in his 987th career game.
With family in the crowd in Newark, Brodeur took the ice in front of a full house that cheered him from the warmup to the final buzzer, mostly with the echoing chant of "Mart-tee, Mart-tee, Mart-tee."
Those cheers turned to "Thank you, Marty" as the clock ticked down, and "Marty's Better," once the record was his.
"Martin Brodeur is the gold standard of goaltending — the model of character, consistency and commitment to the craft," NHL commissioner Gary Bettman said in a prepared statement. "A champion. A winner above all.
"It is difficult to imagine any player who is more universally, and deservedly, respected," Bettman added. "The National Hockey League is extremely proud of Martin, his historic achievement and his enduring contribution to our game."
It brings a chill down our spine witnessing this great spectacle.  We congratulate you Martin Brodeur on a career that most can only dream of.

Tags:
Comments