Blake Griffin Goes Up And Over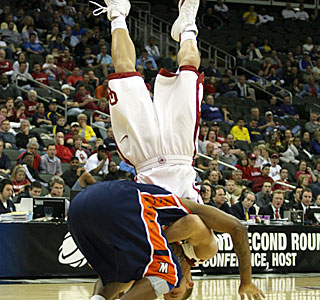 Total Pro Sports – Getting thrashed by the Oklahoma Sooners 82-54, Morgan State Bears (Who???) Ameer Ali had a little brain cramp and I think forgot where that he was playing basketball and not in the WWE. He got tied up with Blake Griffin and then flipped him over his back.
"I got tangled up. It turned out bad," he said, adding that the only thing hurting was "My tailbone a little bit. My back is all right."
"Just understanding why they're doing it and not letting them get the best of me," said Griffin, who was 11 of 12 from the field. "I don't want to get into the individual game they're trying to play with me. I don't want to have to sit out a game for doing something stupid in retaliation. The best thing to do is just to walk away." [Sportsline]
Ameer Ali's form was fantastic we score it a 9 out of 10 for technique and form.  I wonder if Vince McMahon got a hold of this video yet?
Tags:
Comments