The Stat Line Of The Night – 3/20/09 – Gerald Wallace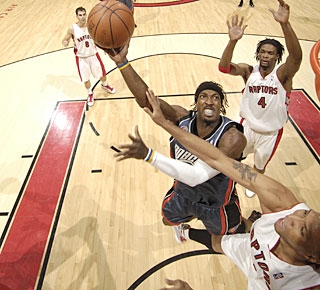 Total Pro Sports – Going into Friday night the Toronto Raptors were a favorite at home when they took on the Charlotte Bobcats.  Boy were the odds makers way off on this one.  The Raptors lost their 45th game of the season 102-89.
The story of the game and "The Stat Line Of The Night" for Friday March 20, 2009 is Charlotte Bobcats forward Gerald Wallace.  Wallace had a monster performance scoring 30 points adding 9 rebounds and 8 assists leading his Bobcats team to the win.
"Gerald has no regard for his body," Charlotte center Emeka Okafor said. "He just doesn't care. He sacrifices for the team and he's clearly our energy guy. He's out there flying and diving and doing whatever it takes to win."
"I play off adrenaline," Wallace said. "Nine times out of 10, my body is always sore. I just like to get in the game and keep playing. I tell coach, 'Just let me go.' I don't like to sit down too long because I get stiff and everything. When I'm going I'm all right."
It is obvious that this year the Bobcats are not going anywhere but if they can keep the chemistry rolling they will definitely be a contender in a couple of years.
Wallace, Diaw put up 30 each for more than half of Bobcats' points – [Sportsline]

Tags:
Comments