The Stat Line Of The Night – 3/21/09 – Alexei Ponikarovsky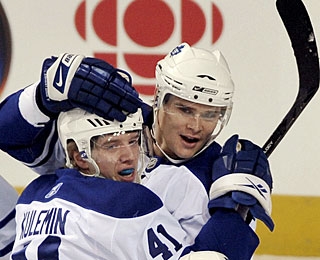 Total Pro Sports –  Yes, the Toronto Maple Leafs beat the Montreal Canadiens 5-2 in Montreal on Saturday night, go figure!!!!
The best part is that "The Stat Line Of The Night" for Saturday March 21st, 2009 goes to the unexpected stellar play of Mats Sundin Alexei Ponikarovsky. Ponikarovsky who is also known as "Poni" in the city of Toronto was a monster on Saturday in the Leafs win, he had 2 goals and 2 assists for 4 points in the Leafs 30th win of the season.
"Ponikarovsky's line combined for 11 points. Mikhail Grabovski had a goal and three assists — including one on Jason Blake's 25th goal in the third — and Nikolai Kulemin had a goal and two assists. "
The Leafs are now a .500 team with this win on Saturday night.  The only sad part about the Leafs winning like this is that they continue to fall further away from the John Tavares sweepstakes.
Ponikarovsky scores two, sets up two more for Maple Leafs – [SportsLine]

Tags:
Comments