The Stat Line Of The Night – 3/22/09 – Terrence Williams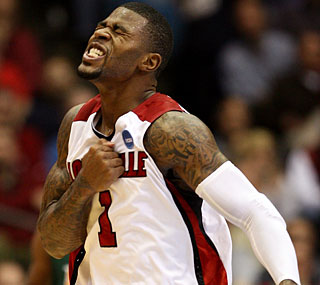 Total Pro Sports – The Sienna Saints kept it close against the Louisville Cardinals on Sunday but eventually lost the game by 7 points, 79-72.  The Cardinals now move onto the Sweet 16 to take on the Arizona Wildcats.
The Cardinals were lead by forward Terrence Williams who had a monster night with 24 points, 15 rebounds and 4 assists in the win, ultimately making him "The Stat Line Of The Night" for Sunday March 22nd, 2009.
They had no answer for Williams.
"When the team was sputtering, he made some plays," Siena coach Fran McCaffery said.
Williams' two free throws with 35 seconds left put Louisville ahead 76-69 and ended the Saints' upset chances. The loss extended the Metro Atlantic Athletic Conference's history of never having a team reach the round of 16.
Look for the Cardinals and Terrence Williams to go deep and potentially make a run for the championship.
Williams stars as Louisville staves off upset loss to Siena – [Sportsline]

Tags:
Comments