Creighton Blue Jays Girls Love B-Jays
Total Pro Sports – Last night the Kentucky Wildcats took on the Creighton Blue Jays in the second round of the NIT tournament.  The Wildcats were lead by All American Jodie Meeks who had 16 points, 3 rebounds and 1 assist in the 65-63 win over the Blue Jays.
After the win I went to the CatsPause Message Board to see what some of the Wildcats fans had to say about the game.  As I searched around I came across a picture of some dedicated Blue Jays fans showing their support during the game.  One of the fans in the Creighton Blue Jays student section was a young lady wearing a blue T-shirt that read "I Love B-Jays"…………..No that's not what she meant, all you dirty minds out there.  She is not showing her love for oral sex but her love for her school the Creighton Blue Jays.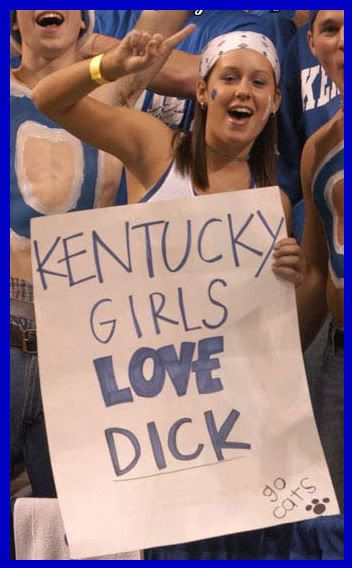 The Kentucky Wildcats fans were also out in full force showing their support for their Wildcats team Dick Vitale.  A lovely young Wildcat lady held up a sign that read, "Kentucky Girls Love Dick" in reference basketball sportscaster Dick Vitale.
Boy do I regret not going to an American University, instead I settled for a Canadian "No Fun" School!!!

Photo Tip Via: Creighton Girls Love Their B-Jays – [Intentional Foul]