The Stat Line Of The Night – 3/23/09 – Mike Cammalleri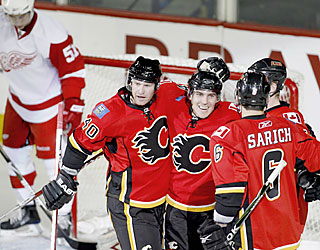 Total Pro Sports – The Detroit Red Wings knew they were in for a tough game when they traveled to Calgary to take on the Flames.  The Flames jumped out to an early 3-0 lead and never looked back, they won the game 5-2.
The Calgary Flames were lead by Canadian boy Mike Cammalleri who scored 1 goal for his 35th goal of the season and added 2 assists ultimately making him "The Stat Line Of The Night" for Monday March 23rd, 2009.  Look for Cammalleri to continue on this torrent pace and lead the Flames deep into the playoffs.
Mike Cammalleri scored a goal and added two assists as the Calgary Flames took advantage of shaky goalie Chris Osgood and beat the Detroit Red Wings 5-3 on Monday night. Cammalleri skated behind the net and banked in a puck off Osgood's pad for his 36th goal at 5:38 of the second period. It was also his 19th power-play score.
In the offseason Mike Cammalleri will become a free agent, so look for him to demand some big bucks and potentially sign with the Toronto Maple Leafs.
Cammalleri provides goal, two assists as Flames burn Wings – [SportLine]
Tags:
Comments