20 Sweet Slam Dunk GIFs
This weekend, while all the big movie stars are boozing and canoodling at the 84th Annual Academy Awards in Hollywood, the NBA's biggest stars will all be dribbling and dunking at the 61st Annual All-Star Game in Orlando.  And although it's pretty much a toss-up as to which marquee event is more worth watching—both are kind of long and pointless—the NBA does offer something the Oscars do not: a slam dunk contest. (If the Oscars did have a slam dunk contest, I bet Meryl Streep would win every other year.)
Interestingly, despite great efforts on the part of the league (led by commissioner David Stern) to screw this tradition up, it's still the most entertaining part of the NBA All-Star Weekend. So to get everyone pumped up for this year's contest, how about 20 awesome dunk animated GIFs? Wouldn't that be nice?
Yeah, it would. So here you go.
Baylor has a player named
Deuce Bello
? Sounds like someone's mom is a big Rob Schneider fan.
20. Baylor's Deuce Bello shows off
This one is from Round 2 of last year's NBA Slam Dunk Contest. As you can see, Ibaka doesn't go
any
where without his teddy bear.
Awwwwww.
19. Ibaka's Teddy Slam
Was Blake Griffin's first round dunk last year as good as DeMar DeRozan's (which you'll see in a moment)? Nope.
Did this lead to conspiracy theories that the contest was rigged? Yep.
Was it probably rigged? Yep.
18. Blake Griffin, Round 1, 2011
Don't you just love watching grown men dunk in short-shorts? They look so much more aerodynamic.
17. Old-School glass-breaker
Either this guy gets way too amped up when he's playing games, or he's drunk. Either way, the internet wins.
16. A little too excited
Sometimes jaw-dropping dunks come from places you least expect—like NCAA Division II Cal State-San Bernadino.
Meet Kwame Alexander. As you can see from this monster dunk against Cal State-Stanislaus just this month, Kwame rules.
15. Division II superman dunk
Speaking of amazing amateurs, how about this one? Pretty awesome, right?
Too bad it was charging.
14. Epic amateur dunk
Here is the aforementioned dunk by Toronto's DeMar DeRozen from last year's Slam Dunk Contest. To be honest, it doesn't look all that impressive at full speed, because it all happens so fast. But when you slow it down, you see that it is badass. DeRozan was robbed.
13. DeMar DeRozan, 2011 Dunk Contest
This is the Kansas Jayhawks' Elijah Johnson—three years ago, when he was in freaking high school. He did this number at the end of the 2009 Wazoo Sports Derby Festival Basketball Classic...whatever the hell
that
is.
12. Elijah Johnson's 360° Eastbay dunk
UConn's Andre Drummond is 18 years old, 6'11", 275 pounds. Something tells me he'll make it in the NBA.
11. Andre Drummond's monster jam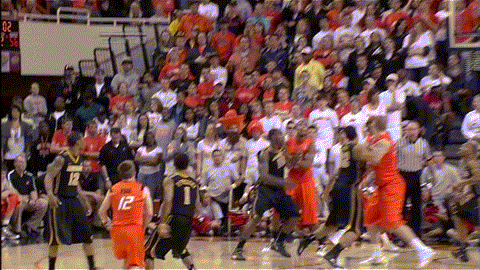 This one happened this past January, when the OSU Cowboys upset the #2-ranked Mizzou Tigers.
Markel Brown really makes the Missouri defence look stupid on this one. Unfortunately, he let them know how stupid he made them look, got a technical for taunted, and was ejected (because it was his second of the game). Oops.
10. Markel Brown schools a Tiger
After he did this one last year, McGee probably said to himself, "man, Blake Griffin is gonna have to jump over a car to beat that."
9. McGee under-the-backboard windmill
5'9" Nate Robinson jumping over 6'11" Dwight Howard at the 2009 Slam Dunk Contest. Wh this led to the 2nd of his record 3 NBA Slam Dunk titles)?
8. KryptoNate
Is this awesome to look at? Hell yes. That's why is comes in at #7. But if you look closely, you'll see that Griffin actually gets pretty close to the basket when he takes his leap. Michael Jordan he is not (see #3).
7. Blake Griffin's 2011 championship dunk
This happened during the halftime show at a Phoenix Suns game. Nick Corrales, a member of the Suns Gorilla Verve Sol Patrol, overshoots his acrobatic dunk and ends up going through the hoop himself.
The audience doesn't quite realize it, but this move was most definitely not planned.
6. Acrobat slam dunks himself
This guy probably claims it was a full 720° dunk. But I say no, not quite. His body as half turned when he leaves the floor, and he's not quite fully rotated when the ball goes past the rim. Still, 540° is pretty impressive—certainly good enough for the top-5.
5. 540° Dunk
A lot of it is camera angle, but this is still one of the most beautiful dunks you'll ever see.
4. Desmond Mason goes through the legs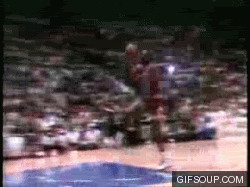 You knew we'd have to have Jordan dunking from the free-throw line in here. It's one of the greatest moments in the history of pro sports.
3. Air Jordan
Other guys can do this dunk, but they just don't look as fearsome when they do it. That's what makes Jordan a legend.
2. Air Jordan 2
This ridiculous gravity-defying dunk is from the 2000 Sydney Olympics. Vince Carter lept over 7'2" Frenchman Frederic Weis creating an all-time classic sports moment that the French media dubbed "Le Dunk de la Mort"—The Dunk of Death.
How does it even occur to someone that he should try this?
1. Vince Carter defies gravity
Tags:
Comments