While we have seen spinning backfists result in knockouts time and time again in the past, it appears as though some MMA fighters have yet to catch onto this sneaky move. Take Daniel Acacio, for example, as he was unexpectedly knocked out by 41-year-old journeyman Pete Spratt via a devastating spinning backfist during their Amazon Forest Combat 2 bout over the weekend.
You simply have to love the way the older, wiser Spratt suckered Acacio in by making himself appear tired. And suddenly, when he Acacio least expected it, BAM! Right on the chin!
Check it out, from both angles.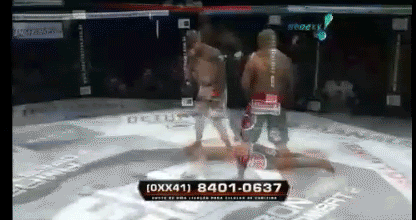 Hat Tip – [Cage Doctors]