25 Ridiculous Basketball Flops (GIFs)
Is it just me, or is there a flopping epidemic in the game of basketball? Seems like I can't turn on an NBA game this postseason without seeing some dude who makes $5 million flailing around like he's being attacked by a swarm of bees. Perhaps they're all watching too much soccer. I mean, there are a lot of Europeans in the league these days, and LeBron is actually a minority owner of Liverpool FC. And we all know soccer players have a propensity for diving.
Anyway, I decided yesterday that, if this nonsense is going to persist, I might as well put it to good use and do a list of basketball flops. So here you go, folks—25 examples of ridiculous flopping in animated GIF form. Because 24 is too few and 26 is too many.
Enjoy.
Utah's Raja Bell really tries to sell this one with the flailing arms. (I think it's probably a bit too much.)
25. Let's go to the Rajaflop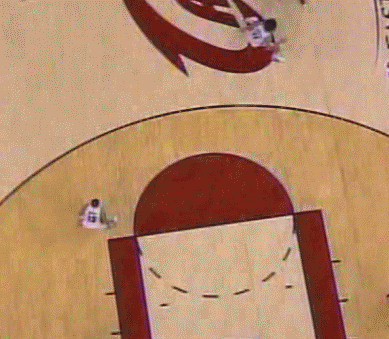 Obviously, Anderson Varejão takes cues from his soccer-playing countrymen (he's from Brazil).
24. Got Flop?
When King James sees that his path to the hoop is blocked, he just makes like he was hit in the face.
23. LeFlop
Wow. For such a big guy, LeBron sure is knocked over easily.
22. LeFlop the Second
Sonic-turned-Nugget-turned-76er-turned-Raptor-turned-Clipper Reggie Evans is a bit of a serial flopper. We'll see him again further down the list.
21. Reggieflop
Someone needs to help out San Antonio's Cory Joseph. This is one of the least convincing flops I've ever seen. I mean, you can't lead the flop with your hips, then push off with your legs. That's not how it works.
20. Help Wanted: Flopping Lessons
Generally speaking, the Germans are probably the least-floppingest of all European soccer pkayers. But Dirk Nowitzki shows here that the same is not true in basketball.
19. Heirfflöppenwindler
Butler coach Brad Stevens illustrates his displeasure for the referees.
18. Brad Stevens no like the flop
Well at least this one is actually close to being a real foul. Can't say that for most of them.
17. Clemson Flop
Leave it to a Spaniard to really crank the flopping up a notch.
16. Ricky Rubio Flop
Dude, you have to wait until someone actually bumps into you before you start flopping all over the place.
15. Premature flopulation
Manu Ginobili tries out a new, experimental flop here: the flailing leg flop. (I think it needs work.)
14. The rare double flop
This one actually looks two football players would do in the endzone to celebration a touchdown—which says a lot about the states of both football and basketball, I think.
13. Another rare double flop
Here we have Chris Paul doing the Ballet Flop.
12. So You Think You Can Dance I
And here we have Chris Paul doing the Jazz Flop. (Note the jazz hands.)
11. So You Think You Can Dance II
This is either a major flop, or the guy with the ball didn't put on deodorant.
10. The B.O. Flop
Mizzou guard Michael Dixon performs one of the more outlandish flops on today's list. I like how the Baylor players are just completely baffled (in their weird camo and chartreuse uniforms).
9. Tigerflop
Dear Blake Griffin: You can't flop when you hit yourself in the face. Sincerely, common sense.
8. Blake Grifflop
Sadly, the more I watch this GIF, the more I suspect this isn't actually a flop. It looks like the guy with the ball steps on the defender's left foot and he loses his balance. But it looks like a flop at first, and, who knows, it might still be a flop—the evidence is inconclusive. So I left it in.
7. The classic oversell
Oh no, Reggie Evans just got shot in the face! Wait, no, just flopping.
6. More Reggie Evans
This is slow motion, but I'm sure even in real-time one would notice the delay on Bosh's reaction to this phantom elbow.
5. CBflop
Exactly what part of his body is LeBron trying to intimate has been injured?
4. Can I get an AAAA-men?!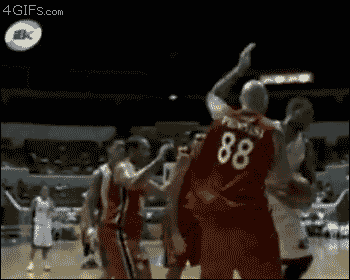 This one is a classic. Maybe you've seen it before. But in case not, well, here you go.
3. Delayed Reaction
Here, Chris Paul flops on the referee. Whoa, that sounds dirty.
2. Look before you flop
This one is my personal favorite. So brash, so ridiculous, so embarrassing. What's not to love?
1. The Phantom Punch