22 Fantastic Ping Pong GIFs
Sometimes it's called table tennis; other times it's called ping pong. The difference? Well, if you play it in a gym in shorts and sneakers with your arms flailing all over the place, it's table tennis. If you play it in your basement and the paddle has orange fingerprints on it from the Doritos you were eating, it's ping pong.
Former: Olympic sport. Latter: hobby. You get the idea.
Anyway, this list is going to have a little bit of both. Some of the GIFs are just ridiculous examples of idiots (or cats) playing ping pong, exhibiting almost no talent whatsoever. But some of them feature real table tennis players doing awesome table tennis type stuff. I won't tell you which ones are which, though. Based on the criteria set out above, I think you can figure it out.
In any case…enjoy!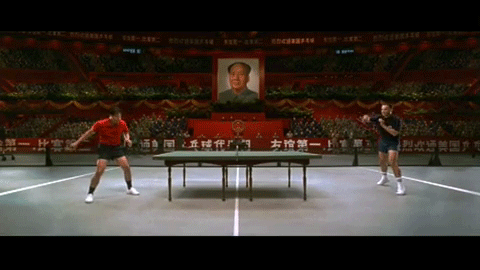 Hey, remember when Forrest Gump became the U.S. Army's official ping pong ambassador? That was cool. And mesmerizing.
22. Gump Pong
Ryan Kesler is never going to hear the end of it, is he? In case you don't know what this is, it's Vancouver Canucks center Ryan Kesler being used as a ping pong ball. Before his team was eliminated by the Kings in the first round of the 2012 Stanley Cup Playoffs, Kesler became a meme when we took a very theatrical dive in an attempt to draw a penalty. So, yeah.
21. Kesler Pong
Guess what? Cats love ping pong. A lot.
20. Cat playing ping pong
See, told you cats love ping pong. And there's still more where these came from.
19. Another cat playing ping pong
Like 86-year-old Hugh Hefner with his 23-year-old Playboy Bunny girlfriends, dogs know that if they actually got involved, they'd just mess things up. So they just like to watch.
18. Dogs just like to watch
Behold: the ping pong of the future. Looks like fun.
17. Laser Pong
Sure, they're playing ping pong now, but soon they'll be taking our jobs. And I imagine we'll eventually have to torch the sky with nuclear weapons in a last-ditch effort to prevent them from taking over the world. So I don't see what's so great about this.
16. Robo Pong
Apparently this is supposed to explain nuclear fission. Of course, I don't know anything about that, but this kind of makes me want to learn something, which I'm sure is the point.
15. Nuclear Fission Pong
This is what it looks like when I play ping pong. Totally epic.
14. Light Speed Pong
This is one part flimsy table, one part clumsy doofus.
12. PP Fail, Part I
These guys started off playing beer pong. Moving on to actual ping pong was a bad choice.
11. PP Fail, Part II
What can I say? There are a lot of GIFs of cats playing ping pong out there on the internet. Actually, there are a lot of GIFs of cats, period. (The term "LOLcat" didn't come from nowhere.)
10. Yep, more cats
It's nice to know that ping pong cat is doing his best to help rehabilitate inmates at the local penitentiary.
9. Ping Pong Cat Goes to Jail
No, this isn't from a movie. It's from a commercial Tommy Lee Jones did for Japanese coffee company "Boss." There's a whole slew of them. Google it.
8. Tommy Lee Pong
Last week we brought you Kramer doing
karate
. This week we bring you Kramer playing ping pong.
7. Kramer Pong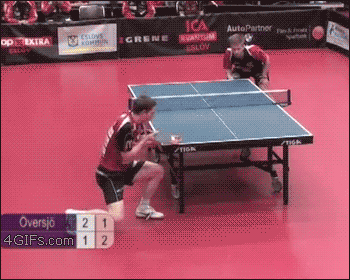 See, this is the difference between ping pong and table tennis: flailing arms, sneakers, absence of cheetos.
6. Ridiculous table tennis shot
Another great example of wicked table tennis.
5. Awesome table tennis rally
Venus and Serena Williams' dad put tennis rackets in his daughters' hands when they were like 3 years old. Earl Woods put a golf club in Tiger's hands before he was even 2. This guy decided he'd try to do the same thing—only with a much less lucrative sport.
4. Baby Pong
Unlike regular tennis, no matter how hard you swing a table tennis paddle, there's only so fast that ball is going to go, what with the laws of physics and all. So I'm not sure this gigantic swing is really necessary. It does look awesome, though.
3. Craaazy shot
That's the spirit. Keep active buddy.
2. Nursing Home Pong
Obviously, this is fake—from a Nokia cell phone commercial. (The connection between Bruce Lee playing ping pong with nunchuks and Nokia cell phones is obvious, right?) If you thought it was real, you might be an idiot. It's still awesome, though.
1. Nunchuk Pong