High School Player Marvey'o Otey Scores Behind-The-Back 3-Pointer (Video and GIF)
Sometimes if you have a seemingly impossible task ahead of you the best course of action is just to do it as quickly as possible without thinking and hope that luck somehow turns your way. That was what happened to Marvey'o Otey of the William Byrd High School basketball team, but that doesn't make his incredible behind-the-back 3-point shot any less impressive.
The miraculous play happened after Otey caught a long pass and didn't have time to line up a clean shot. So he simply flung the ball behind is back, not even slowing down until he ran out of bounds and out of the gymnasium through an open door (it's a good thing the door wasn't close, he might have smacked into it). The feeling of hearing the crowd go nuts from outside the gym must have been a good one. Although I have to wonder if even he had trouble believing that his shot actually went in.
To watch Marvey'o Otey's downright heroic behind-the back 3-pointer for yourself, you've got two options: Video of the play below, and an animated GIF after that. Both are pretty shaky, but the video is a little easier to follow since it's a little longer. Check them out, and enjoy.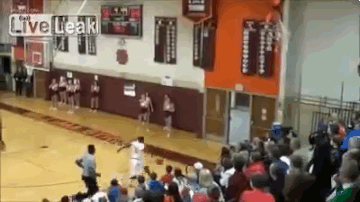 Tags: