Of Course FSU Ball Boy Red Lightning Was at the BCS National Championship Game Last Night (GIFs + Video)
Remember Red Lightning, the ridiculously amazing Florida State Seminoles ball boy who sprints up and down the sidelines and always seems to inject himself into the celebrations that follow big plays?
Well, he was obviously the secret to FSU's success this season. So you didn't think they were going to leave the dude at home in Tallahassee while Jameis Winston and company played Auburn for the National Championship in Pasadena, did you? Because they didn't. The FSU football team needed him, so they brought him along.
Maybe you saw him helping Winston warm up before the game:
Or maybe you saw him during the game, sprinting up and down the sidelines when FSU was down 21-3, sparking a 'Noles rally: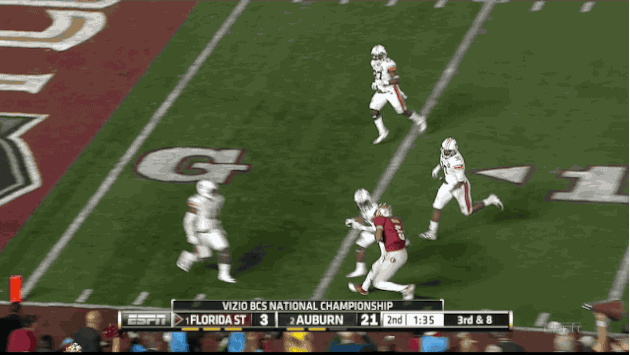 Or maybe you saw him after the game, decked out in FSU National Championship gear, strutting around the field:
The point is, Red Lightning—a.k.a. Florida State junior Frankie Grizzle-Malgrat—was there, and he is why the Seminoles won the game.
The big question now? Will RL be back next season, or will he declare for the 2014 NFL Ball Boy Draft?
Hat Tip – [The Grid]
Tags:
Comments