Cam Newton Flops After Ahmad Brooks Soars Offside (GIFs)
The playoff match up between the San Francisco 49ers and the Carolina Panthers was understandably heated, with both teams itching for a shot at the championship. Especially eager was the 49ers' Ahmad Brooks, who was just a little bit early in launching himself through the air and completely clearing the Panthers' offensive line.
As if the sight of a linebacker flying through the air like Peter Pan wasn't amusing enough, the play (which ended with an offside penalty for Brooks) has another wrinkle: Panthers QB Cam Newton pulled a hilarious arm-waving flop after Brooks sailed past his shoulder. Completely unnecessary, of course, but you've got to give Newton credit for trying.
It's rare that a football play has one GIF-worthy incident, and here's one with two.  You can see both of them in the GIFs below, which show Ahmad Brooks' Superman-worthy flight over the Panthers' offensive line, and Cam "Superman" Newton's slapstick flop in response. What are the odds that you'd have two Supermen in one play?
Here's the first GIF, in regular speed:
And here's the second GIF, which is in slow motion, and which also gives you a better view of Cam Newton's dramatic reaction to having his shoulder touched: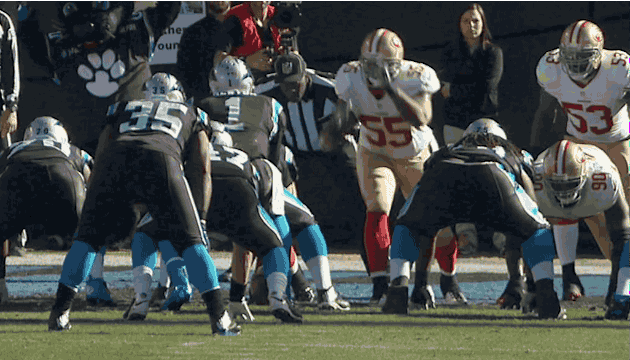 Tags:
Comments