Seahawks' Jeremy Lane Gets Leveled by Out-Of-Uniform 49ers Player (GIF)
Pretty much everybody was expecting/hoping for Sunday's NFC Championship battle between the San Francisco 49ers and the Seattle Seahawks to be a heated one. So it wasn't a total surprise that even players on the sidelines were getting in on the action, as one out-of-uniform member of the 49ers organization did.
It happened after the Seahawks' Jeremy Lane was shoved out of bounds during a Seattle punt. It was just one unusual incident out of many that viewers were treated to as they watched the 49ers eventually lose to the Seahawks, despite the extra help from whoever this guy on the sidelines was. And it didn't get as much attention as it might have otherwise, since it happened as San Francisco's punter-returner, LaMichael James, was getting demolished by Seattle's Ricardo Lockette.
If you're even just a little bit curious about the collision between Jeremy Lane and a non-uniformed San Francisco 49ers player, then you can take a look at the GIF below, which shows the whole thing in living color. If you're not curious, well, enjoy some of these advertisements, I guess.
Here's Jeremy Lane: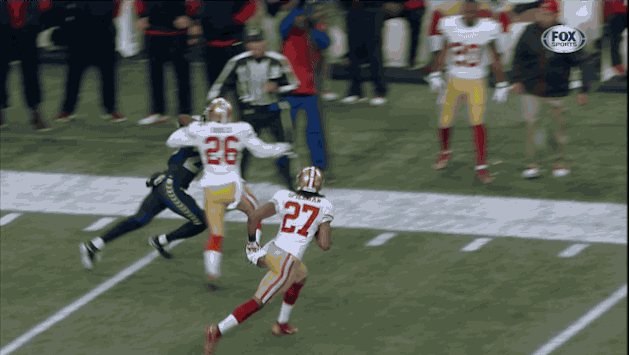 And here's LaMichael James getting hit, which attracted a lot of eyeballs while the above was happening:
Tags:
Comments