Tom Brady Struggle Face After Loss to the Broncos (GIF)
New England Patriots quarterback Tom Brady spent a lot of this season trying to get a high five from his teammates. But toward the end of Sunday's loss to the Denver Broncos in the AFC Championship Game, he finally found something willing to connect with the palm of his hand: his own face.
I believe it's what the kids call a "facepalm," and it instantly became one of the all-time greats of the form. Even if Tom Brady never does another hilarious thing in front of TV cameras again, his legacy as football's most comically put-upon quarterback is secure. In fact, he might be one of the great exasperated figures in history, period, right up there with Inspector Clouseau and George Costanza.
You can see what I mean by taking a look at Tom Brady's pitch-perfect exasperated facepalm in the animated GIF below: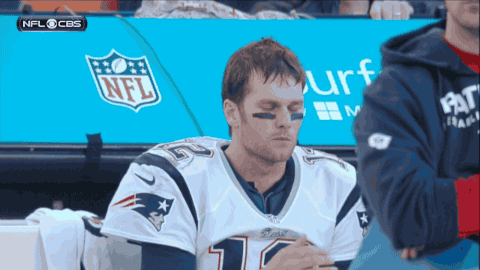 Can this animated GIF be used in other contexts to humorous effect? I'm no fortune teller, but signs point to "yes."
Tags:
Comments