Unruly Olympiakos Hooligans Hit Opposing Coach in Face with Full Cup of Soda (Video + GIF)
In the span of just one week, Greek soccer club Olympiakos has gone from the highest of highs to the lowest of lows.
The high? Last Tuesday they got a huge 2-0 victory over Manchester United in the first leg of their Champions League Round of 16 matchup, which puts them on the verge of a major upset and a trip to the quarterfinals for the first time in over a decade.
The low? On Sunday, Olympiakos fell behind early to fellow Athenian club Panathinaikos. Then, during a prolonged delay in the second half, their fans completely lost their shit and started throwing everything they could find onto the field—including a full cup of soda, which hit Panathinaikos manager Giannis Anastasiou right in the face.
Take a look: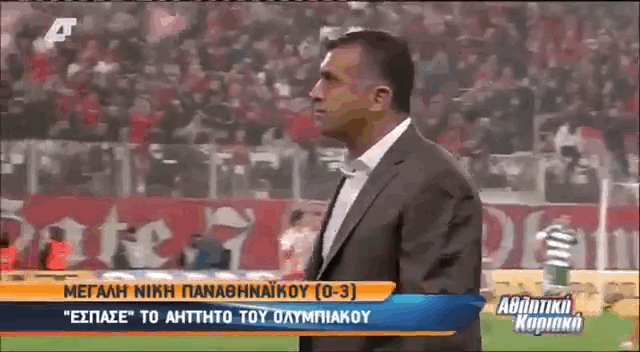 All in all, Anastasiou is pretty lucky.  Some fans were throwing flares.
Still, that had to sting.
Hat Tip – [Deadspin]
Tags: