Stanford Cowbell Guy Steals Show During Kansas Game at NCAA Tournament (GIFs)
If you play the cowbell in a university band, pretty much the only way you can really stand out from the pack is by getting really weird with the visual aspect of your playing. The cowbell doesn't make a lot of noise, so it's all about drawing as many eyeballs as possible to you in order to pick up the slack of your chosen instrument. One person who knows this all too well is the Stanford Cardinal cowbell guy, who succeeded in stealing the show for a brief time during Stanford's upset victory over the Kansas Jayhawks on Sunday.
I don't know if the Stanford cowbell guy's antics contributed to their upset victory over Kansas, but I do know that it's contributing to me laughing really hard right now.  And that's all that really matters, isn't it?
If you love to laugh, check out a couple GIFS of Stanford's resident cowbell guy below. And I warmly accept your congratulations for writing this whole article up to this point without referencing Will Ferrell's "more cowbell" SNL sketch.
A star is born:
And a star turns into a supernova: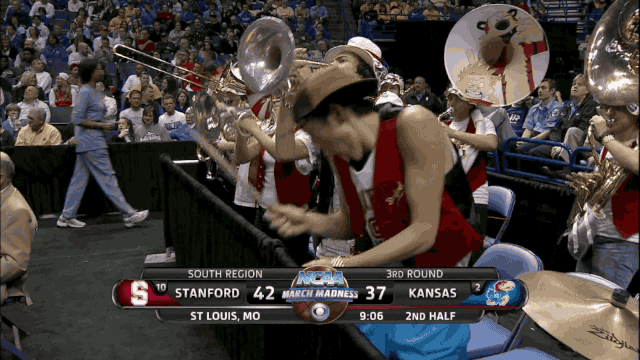 Tags:
Comments