Johnny Manziel Looked and Acted Like a Superstar at His Pro Day Yesterday (GIFs)
Yesterday on the campus of Texas A&M, Johnny Manziel had his pro day before representatives of 30 NFL teams and over 100 members of the media, and it was pretty much the perfect embodiment of the Johnny Football phenomenon: legitimate QB talent wrapped in three-ring circus swagger.
The pro days of Teddy Bridgewater and Blake Bortless, certainly got their share of media coverage.  But Johnny Football? His pro day got its own page at the Nike online store so people can buy all the gear the kid was wearing. That's hype. And it grew stronger the very moment Manziel trotted onto the practice field with Drake blasting on the PA system—because unlike every other QB prospect ever, he was wearing pads and a helmet.
Why? Well, the cynic might point out that the one problem scouts have with Manziel is his lack of size, and wearing pads would certainly make him look bigger. However, Mr. Football had another explanation when asked by members of the press: "Isn't the game played with them on?"
Touché.
In any case, once Manziel actually started throwing the football, his gear and showmanship took a backseat to his abilities. The 2012 Heisman Trophy winner threw 65 passes to six receivers while running various routes in the backfield. Only two were not caught, and some were downright amazing.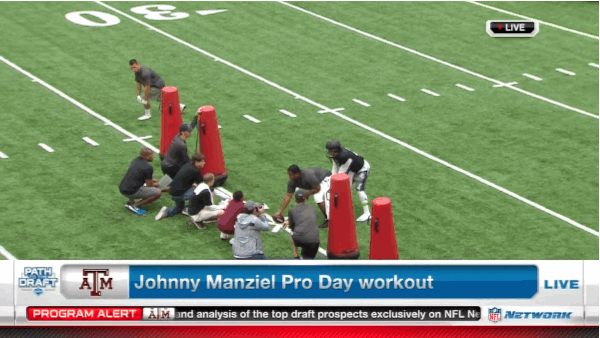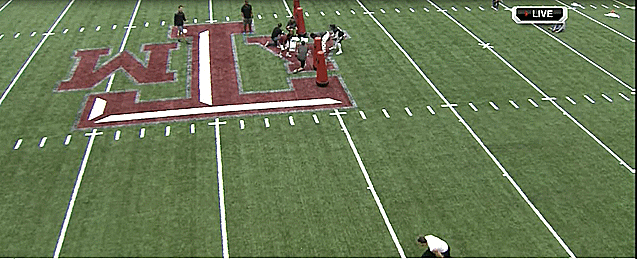 So yeah, Johnny Football's pro day went pretty well. The flashiest quarterback in the 2014 NFL draft is now probably the top-rated quarterback, too.
The only thing he needs to work on? His celebrity entourage.
While it's certainly nice that former President George H.W. Bush and his wife, Barbara Bush, came out to support the native Texan, hanging out with a couple of octogenarians isn't going to enhance his street cred.
Hat Tip – [CBS Sports & ESPN]
Tags:
Comments