Worst Intentional Walk Ever Turns Into Walk-Off Home Run for Ole Miss (Video + GIF)
It's always exciting when your team gets a walk-off win, and it's even more exciting when it comes on a walk-off home run.
But a walk-off win on a walk-off home run that was supposed to be an intentional walk? That's just nuts. And it happened on Friday night at the Ole Miss Rebels' Swayze Field.
The No. 23 Rebels were hosting the Auburn Tigers, and the game was tied 5-5 in the bottom of the 13th when third baseman Austin Anderson came to the plate with one out and runners on first and second. At that point, since Anderson is apparently a formidable threat at the plate, the Tigers decided to do what they'd already done two times that game: give him the old intentional base on balls.
Here's the thing, though. When you're trying to intentionally walk a guy, you really have to make sure the ball is way off the plate or else this will happen: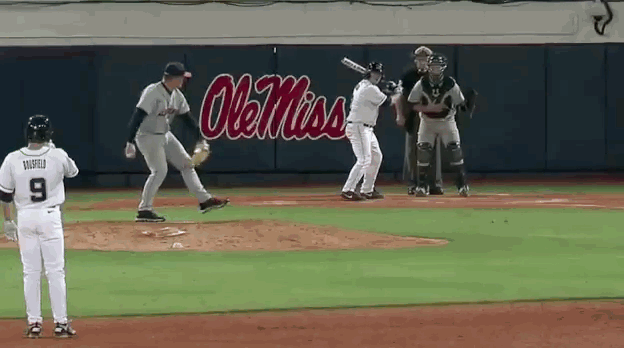 Of course, Ole Miss would probably have won the game even if the IBB had not been a total disaster. After all, they would have had the bases loaded with only one out. Just putting the ball in play in that situation would have given them an 85% chance of scoring the winning run.
However, Ole Miss didn't win on a slow-rolling grounder to second base. They won on an intentional-walk-off home run. And that is awesome.
Hat Tip – [CBS Sports]
Tags:
Comments