Sam Stout Gets Knocked Out at TUF Nations Finale, Continues to Fight Referee (GIF)
Sam Stout entered his TUF Nations Finale bout versus K.J. Noons having never been knocked out during his 11-year, 30-fight MMA career.
Unfortunately for the 29-year-old from London, Ontario, he was no match for Noons' striking ability on this night, resulting in a first-round knockout, followed by an impromptu grappling session with referee Philippe Chartier.
At one point, Stout actually had Chartier in a guillotine choke, albeit a lose one, but Chartier was able to tap out in time and save himself from injury—although it does drop his unofficial MMA record to 0-1.
Here's a look at the final seconds of Sam Stout's knockout loss against K.J. Noons, as well as his subsequent headlock on referee Philippe Chartier: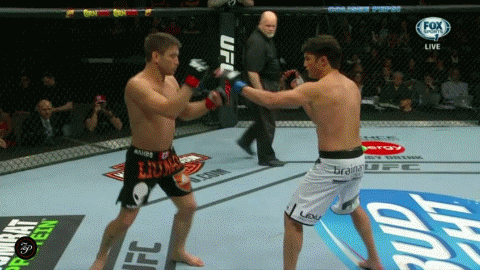 Hat Tip to DanD for the lead and SportsNet for the gif.
Tags: