Blake Griffin Reacts to Foul, Dumps Water on Warriors Fan (GIF)
Ah, the old "throw your hands up in exasperation while holding a cup of water and accidentally soaking another person" gag. It's a classic bit of slapstick dating back to the days of silent movies (and probably earlier than that), but Blake Griffin brought it back during Saturday night's game between the Clippers and the Warriors.
It happened in the last minute of the game, after Griffin received a contentious foul from an official. As he reacted to the news, his cup of water accidentally (?) spilled right onto a Warriors fan standing near the court. Amusingly, he doesn't do anything more than glance at the guy after he realizing what happened.
After that, he tosses the cup on the ground near the guy and walks away without even saying sorry.  But overall, at least the fan has a great Blake Griffin story going forward. And the Warriors went on to beat the Clippers shortly after, so it was a pretty good night for the fan all around.
Here's a GIF of the incident: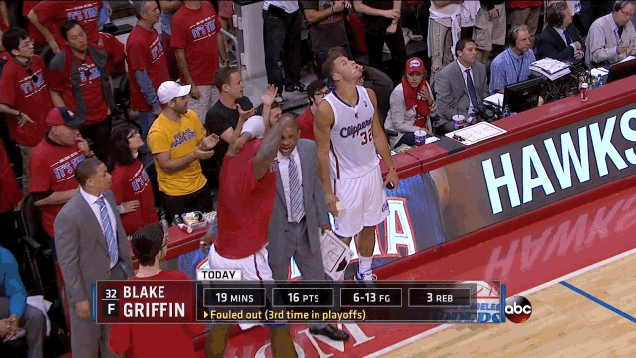 Hat Tip – [Deadspin]
Tags:
Comments