Cop Trips High School Kids Rushing Field After State Title Win (Video + GIF)
All you no good punks in the Austin, Texas, suburb of Georgetown had better look out. Officer George Bermudez is on the job, and he isn't having any of your sh*t.
This past Saturday, when the Vandegrift High School girls soccer team won their first ever state championship, the Vandergrift students in attendance thought they would just rush the field and celebrate the victory with the team like it was no big deal.
Can you believe that? High school kids congratulating their friends and classmates? And pretty much every adult there just let it happen, too!
The only sane adult in attendance was Officer Bermudez. He recognized the situation for exactly what it was—a very serious threat to public safety—so he did the only logical thing he could think of. He started tripping kids running onto the field.
See for yourself: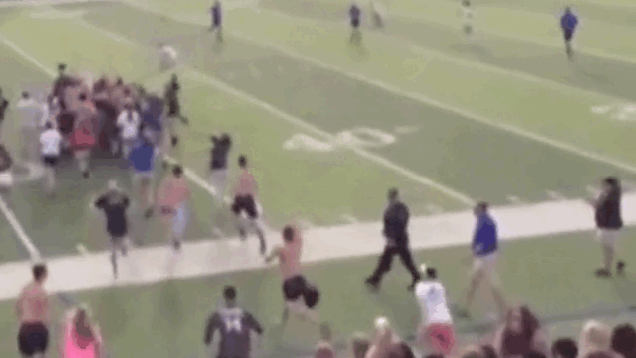 Can you believe that Officer Bermudez has been placed on leave while the Georgetown Police Department investigates his conduct? This man is a hero! He prevented literally dozens of kids from having fun.
(PS, just so we're clear, I am being sarcastic here. Officer Bermudez was being a giant asshole.)
Hat Tip – [Deadspin]
Tags: