Watch Reds Speedster Billy Hamilton Go First-to-Third on Dribbler Back to Mound (GIFs)
This past offseason, the Cincinnati Reds decided they couldn't afford to keep leadoff hitter Shin-Soo Choo and his amazing .423 on-base percentage. So they let him head to Texas via free agency, and instead decided to take a gamble on center fielder Billy Hamilton.
Now, on paper it may not seem like a gamble to go with a leadoff hitter who, in 2012, stole more bases in a single season—a whopping 155, with a success rate of .807—than anyone in the history of professional baseball. Here's the thing, though. In order to steal second base, you have to get on first base. And Hamilton isn't very good at getting on first base right now. At time of writing, Hamilton has played 18 games this season and his on-base percentage sits at just .246, which is roughly 100 points below league average.
So yeah, the Billy Hamilton experiment has been pretty ugly at times.
That being said, when the kid gets on base, he is the most exciting player in baseball. And that's not hyperbole. I am totally serious.
Just consider what he did last night in Pittsburgh. After actually reaching base to lead off the game, Hamilton went from first to third when Joey Votto hit—are you ready for this?—a dribbler back to the pitcher.
See for yourself: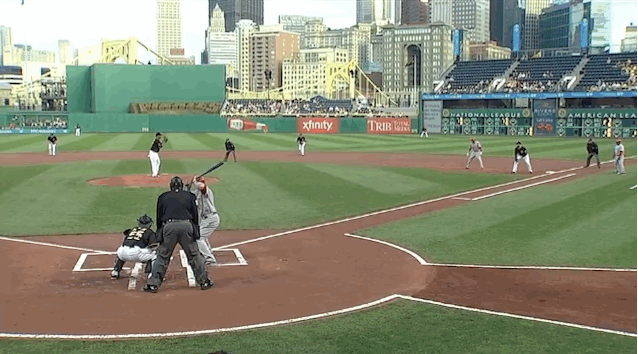 God help the National League if Hamilton ever figures out how to draw walks.
As it is, last night he only got on base that one time, and the Reds lost to the Bucs, 6-5.
Hat Tip – [Eye on Baseball]
Tags: