We Have a GIF of Carlos Torres Punching Himself in the Head out of Frustration (GIF)
Relief pitchers have a very narrow window in which to do their job, and when that window shuts, it's pretty clear if they helped their team win or lose. Carlos Torres took to the mound in the 12th inning of a tie game between the Mets and Brewers, then let up four quick runs on seven quick hits.
Carlos Torres did not help his team win. So he did what any normal person does when they fail at something. He punched himself in the head three times. Twice on the right, once on the left. With a towel draped over his head. It was not a pretty sight.
But don't take my word for it. See for yourself in this charming GIF: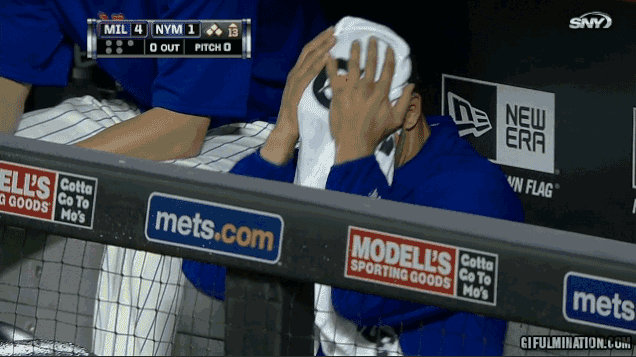 It's fun to imagine that this isn't a looping GIF, but rather that Mr. Torres just pummeled the crap out of himself for the entirety of your viewing.
I mean, if you gave up four runs and seven hits in the twelfth, would you let yourself off with just three shots to the dome?
Hat Tip – [Deadspin]
Tags: