New Security Footage Gets Guy Who Fell from Upper Deck of Ralph Wilson Stadium Convicted of Reckless Endangerment (GIF)
Remember that guy who fell from the upper deck of Ralph Wilson Stadium during a Buffalo Bills game back in November? Back then we only had distant footage of the fall from a CBS camera, but the assumption was that stupidity or intoxication (or both) were involved. Now, however, we have new footage of the fall from the stadium's security cameras, and it turns out that assumption was 100% correct.
This new footage comes to light today because the man who fell, Robert Hopkins, 29, was just convicted of second-degree reckless endangerment and third-degree assault. It's not hard to see why, either. The guy apparently slid down the upper deck railing five times before he finally fell and seriously injured someone below.
Take a look: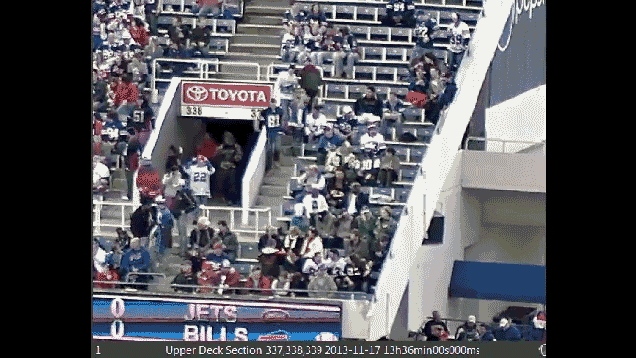 As a result of his conviction, Hopkins could receive up to two years in prison. However, he probably won't, given that he's already paid a pretty steep price for his actions.
And no, I'm not talking about the fact that he was banned from Bills games for life. That's actually a kind of blessing in disguise. I'm talking about the fact that Hopkins was fired from his job as a digital art director at marketing firm Eric Mower + Associates.
One would have to assume that, at this point, Hopkins has learned his lesson.
Hat Tip – [Deadspin]
Tags:
Comments