Ghana's Jordan Ayew Accidentally Flashed Everyone His Junk During Today's Game vs. Portugal (GIF)
It's bad enough to get bounced from the Group Stage round of the World Cup. It's another thing to do so with your pants pulled down. Or, more accurately in the case of Jordan Ayew, violently to the side.
There's nothing to suggest that this was intentional (Portugal player's thinking: "I'll shame him to death!"), but it's very overt and funny, nonetheless.
Well, that's 60 words on the revelation of a Ghanaian player's package.
Hmmm. What else can be said here?
Not much. Sooooooo…
Here's the GIF that you were just DYING to see: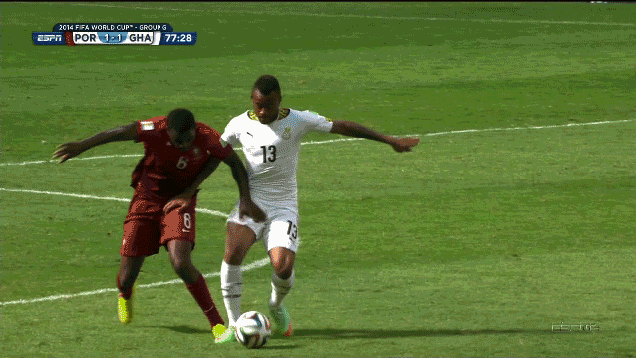 …and they say soccer's boring. What's more exciting than a Portuguese man ripping off a Ghanaian man's shorts in the heat of competition?
Maybe one guy biting another, but that's about it.
Hat Tip – [Deadspin]
Tags: