Awesome Little Girl Crashes the Field in Reds-Marlins Game (GIF)
There are an awful lot of unanswered questions regarding what this adorable little moppet was doing on the field of a Reds-Marlins game Saturday night. Who is she? Why does a little kid decide to do this? They're generally not drunk criminals until they're teenagers. Did her parents put her up to it? Where ARE her parents?
I'm delighted to say I have the answers to zero of these questions. There's a girl on the field, she's running around, and because children are always innocent souls, we'll applaud her for being "mischievous" instead of "a jackass."
Here's a GIF: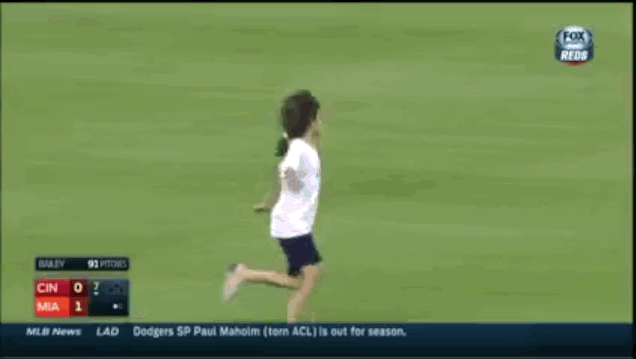 Before it changes to the wide angle, it looks like she's applauding herself. Good for her. Children really need a lot of positive reinforcement during their developmental years, and if you can't love yourself, how can you expect others to love you?
And in case you require a Tweet from someone who will offer absolutely zero insight, we've got one of those, too:
Wait. I am so confused. A little kid on the field @MarlinsPark? Where are your parents?!?! #Marlins#Redspic.twitter.com/NQjiDgI4zJ

— Christina De Nicola (@CDeNicola13) August 3, 2014
Wherever her parents are, I'm guessing they're very proud.
Tags:
Comments