40 Best GIFs of the 2014 MLB Season
The 2014 MLB Postseason is upon us. However, before everyone gets carried away in all the October drama, what with all the clutch hits and the walk-off wins, let's take a moment look back at the previous 2,430 games with this list of the best GIFs of the 2014 MLB season.
After all, while the regular season didn't yield any epic pennant races or record-breaking statistical performances, it was still pretty great. We saw a little bit of everything—embarrassing first pitches, bizarre handshakes, hilarious fails, adorable kids, truly outstanding plays, pure rage, and even a touchdown pass.
So sit back and take a look at the list. Then do me a favor send it to all your baseball-loving friends so it goes viral and I get a big raise. Cool?
Okay, here we go, then. Our countdown of the best GIFs of the 2014 MLB season starts riiiight…
What do you suppose are the chances of this ever happening again? I'm not a statistician, but I'm gonna go ahead and say not good.
40. Lucky Bounce
MLB is going to be testing a variety of measures designed to speed up the game at the 2014 Arizona Fall League this year, one of which will be doing away with the actual pitches when a team decides to issue an intentional walk. It's a really great idea, and obviously it can't come soon enough for Big Papi.
39. Premature Ambulation
Royals first baseman Eric Hosmer is lucky this rocket hit his glove and not his face, or else he might not have been around to be the big stud of the AL Wild Card Game.
38. Baseball 1, Glove 0
I've heard of wild pitches, but this is my first wild bat flip. Leave it to
Yasiel Puig
.
37. Puig's Errant Bat Flip
Puig pisses off a lot of people who say he doens't play the game "the right way." However, the Dodgers seem to be under the impression that being really, really good makes up for all that. Weird right?
36. Puig's Ridiculous Cannon
Look out Matt Stafford, Miguel Cabrera is gunning for your job.
35. Miggy to Megatron
The entire 2014 Yankees season summed up in a single 1.1MB animate GIF—so sad, and yet so funny. (Seriously, though, what did they think was going to happen when they ran a bunch of card-carrying AARP members onto the field every day?)
34. Haha the Yankees are SO OLD!
Notice how he gets his hands down and directs the fall to minimize damage. Pretty cat-like for being such a large fellow, really.
33. Oh My
It would appear they were having some sort of celebrity bachelor auction in left field at Petco Park. I bet old Skip Schumaker fetched a pretty penny from some lustful cougar.
32. Work it, Skip
Listen Papelbon, you play for the Phillies. If you don't want to crowd to boo when you suck, you need to demand a trade.
31. Papelcrotch
Cuteness Rating: 9.975 (out of 10) Nice job, Brewers baby.
30. Shocked Brewers Baby
ADAM EATON ANGRY. ADAM EATON SMASH.
29. Anger
At least Adam Eaton took his frustration out on an inanimate object. Mets pitcher Carlos Torres gave himself a black eye.
28. Rage
Hey, remember the time a dinosaur threw out the ceremonial first pitch at the Padres game?
27. Jurassic (Petco) Park, Part I
Hey, remember the time the dinosaur who threw out the first pitch at Petco Park tried to eat the Swinging Friar?
26. Jurassic (Petco) Park, Part II
If you're a parent and your kid ends up running around on the field during a Major League Baseball game, you're doing it wrong.
25. Wild Child
Sometimes your teammate leaves you hanging and you just have to high-five yourself.
24. Bryce Left Hanging
After the game Edwin Encarnacion tested positive for happy pills.
23. Edwin High-Fives Imaginary Teammates
Usually art imitates life, but sometimes life imitates art...like when Juan Uribe and Adrian Gonzalez turned Yasiel Puig into a human bobblehead on Yasiel Puig Bobblehead night at Dodger Stadium.
22. Real Life Bobblehead
Lost the ball in the sun, Josh Willingham? Catcher Ryan Doumit does not want to hear your excuses.
21. Doumit's Disgust
Mets reliever-turned-starter-turned reliever Jenrry Mejia was super excited to strike out the Yankees Brett Gardner.
20. Mejia Moonwalk
50 Cent gave us one of the most hilarious celebrity first pitches of the 2014 MLB season. But how bad was it? Well, here are three people who did it better than Fiddy...
19. LOLFIDDY
She's a lot close and she chucked it underhand. But she is 101 years old, so all things considered I would say, yes, she out-pitched 50 Cent.
18. A 101-Year-Old Blue Jays Fan
Agnes McKee, 105: also better at pitching than Curtis James Jackson III.
17. A 105-Year-Old Padres Fan
This guy threw the ball with his feet, and even he did better than 50 Cent! Okay, I'm done now. Sorry, Mr. Cent.
16. A Guy with No Arms
The Padres' Everth Cabrera and Yasmani Grandal made the best of a bad situation, putting on a pretty epic slip 'n' slide display during a rain delay.
15. Slip 'N' Slide
Ezequiel Carrera only appeared in 43 games for the Tigers this year, but against the Yankees on August 4 he made one yell of a catch with the bases juiced. Of course, one run did score, but that's better than three.
14. The Ezequiel Carrera Catch
Blue Jays infielder Brett Lawrie has special handshakes with all his teammates. This is the selfie handshake he did with infielder Jonathan Diaz.
13. The Selfieshake
Now that's...using your head. Hahahahaha. [Writer high fives self.]
12. LOLPadres
Dude is smooth.
11. Nonchalant Foul Ball Guy
No list of the best the GIFs of the 2014 MLB season would be complete without a few plays from Braves shortstop Andrelton Simmons.
10. Andrelton Simmons, Mozart of Shortstops
Reflexes + hand-eye coordination = Andrelton Simmons = Fielding Bible Award
9. Andrelton Simmons's Barehanded Grab
That should not have happened, but it did.
8. Andrelton Simmons's Butt Throw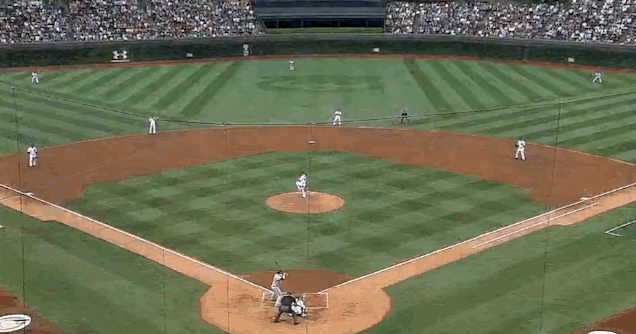 He catches the home run, makes the switch, throws the dummy ball back. Classic.
7. The Old Cubs Dude
Kevin Frandsen, everybody.
6. No-Look Behind-the-Back Catch
This kid is a macking prodigy. That is some smooth sh*t.
5. Kid's Got Game
Bartolo Colon is fat and not good at hitting. I could watch this all day.
4. LOLBartolo
I can only assume this was Bartolo's answer when a rookie asked him the secret to his big league longevity.
3. Bartolo Full of Jelly
This would be amazing all on its own. But when you realize this catch was the
last out of a no-hitter
, it's that much better.
2. The Steven Souza
This wasn't just the greatest throw of the 2014 MLB season. It was one of the greatest throws in baseball history. The lesson? Never, ever run on Yoenis Cespedes.
1. The Throw
Tags:
Comments