Cute Pirates Kid Behind Home Plate Had Bumgarner's Curve Ball Timed Perfectly (GIF)
Last night's NL Wild Card Game between the Giants and Pirates was not very entertaining. For the first few innings it looked like maybe we'd get a pitchers duel. However, only one of the starting pitchers held up his end of the bargain, and in the top of the fourth Giants shortstop Brandon Crawford blew the lid off the game with a grand slam. The Giants would then go on to tack on four more runs and win the game 8-0. So unless you are a Giants fan, there wasn't a whole lot to get excited about.
There was one silver lining, though, for anyone who happened to still be watching the game in the bottom of the ninth. There was a cute Pirates kid behind home plate, dressed in his cute little baseball uniform, trying to will his Pirates to a rally by simulating every at bat.
Take a look: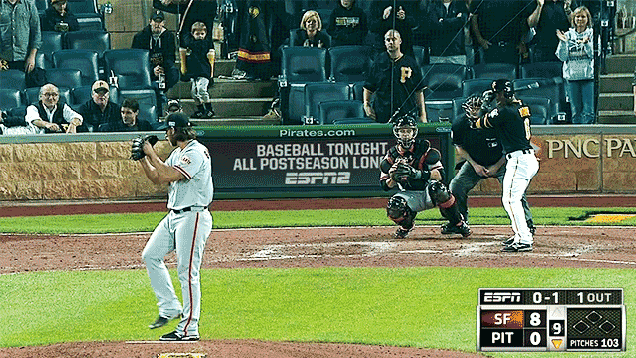 I don't know how he did against the heater, but the kid had Madison Bumgarner's curveball timed pretty well. And seeing as how the Pirates only got four hits all night, they probably could have used him.
In any case, it was nice to see the youngster wasn't completely demoralized by the brutal beatdown. The same could not be said of that dude dressed as an actual pirate.
Hat Tip – [@cjzero]
Tags: