33 Anthony Davis GIFs that Prove Anthony Davis Is Not Human
Why a list of Anthony Davis GIFs, you ask? Because in case you haven't noticed, at the age of 21, Anthony Davis has emerged as the best player in the NBA.
Am I saying Anthony Davis is better than LeBron? Better than Durant? Better than Paul? Yes, I am. I'm not saying things will stay this way. Anthony Davis may not keep up his torrid pace. LeBron may get his sh*t together in Cleveland. But right now, Anthony Davis is the best player in the NBA, and it's not even close. At time of writing Anthony Davis is 2nd in points (26.3), 5th in rebounds (11.4), third in steals (2.2), first in blocks (3.5), first in win shares (3.0), and first in player efficiency rating (36.03).
What's that? Not familiar with player efficiency rating? Well, it's an advanced that, like WAR in baseball, combines all of a player's contributions into one number. And that score of 35.9 would be the highest in NBA history by four whole points, beating Wilt, Jordan, and LeBron.
So yeah, Anthony is good. But maybe you struggle with math and don't trust numbers. Forget the numbers. Just look at the GIFs. The man is not human.
If you're a New Zealand basketball player, how do you even muster the will to keep playing after watching an opponent do that? You can't even dream of doing that.
33. Showing Off Against New Zealand
Deron Williams is know for his ability to break ankles. Unfortunately, Anthony Davis has ankles of steel.
32. Blocking Deron
Come on, Evan Turner. Get real.
31. No Chance
"Huh, this always works on my brother Marc" - Pau Gasol
30. Pau Gets Stuffed
Nobody in the NBA is throwing dunk ally oop dunks like Anthony Davis these days. Just look at this kid soar.
29. Sky High
That's just Anthony Davis blocking a Dirk Nowitzki fadeaway and then taking an outlet pass at the other end of the court for an easy dunk. No big deal, right?
28. DirkBlock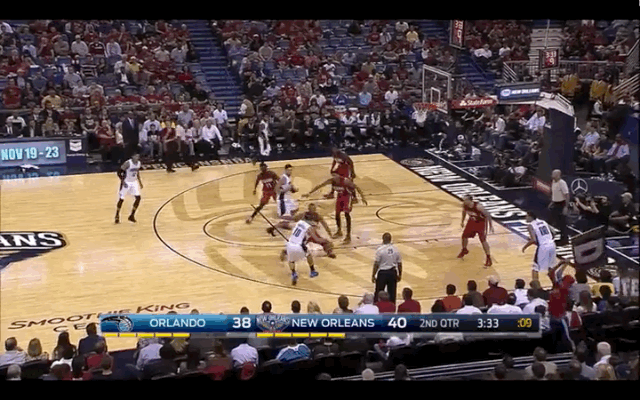 How many players in the NBA could block a pass like this without getting called for a foul? Not many.
27. Intercepted
Okay, so we had to throw in at least once good shot of the famous Anthony Davis unibrow.
26. Terrifying
This was from a Wold Championships tune-up at the United Center in Chicago over the summer. Anthony Davis went showtime for his hometown crowd.
25. Ally Oop Vs. Brazil
NO POINTS FOR YOU CARLOS BOOZER.
24. BoozerBlock
It's not uncommon for power forwards to leave the post and come out to the top of the free throw circle to take a pass. It's far less common, though, to see 6'9" power forwards then drive the lane and lay the ball in. What the hell does Davis think he is? Small forward?
23. Anthony Davis Driving the Lane
When I said Davis is one of the NBA's premier ally oop artists right now, I was serious.
22. Another Ally Oop Dunk...
The guy makes it look so easy—like anybody can just jumpt up, grab a ball that's 12 feet in the air, and slam it in the basket.
21. Aaaand Another
Yes, we would all love to see LeBron James finally take part in a slam dunk contest. But failing that, I would probably settle for Anthony Davis. This guy has some swag.
20. Tomahawk
Davis is only now coming into his own on the offensive side of the ball. He was always a beast on defense.
19. Old School Davis
Zach Randolph is just standing there, waiting for the ball to bounce into his hands.  Anthony Davis like a mile away. Then, out of nowhere, here comes Davis over Randolph's head to slam the rebound home. Ridiculous.
18. Tip-In Dunk
Go stick your head in the South Beach sand,
Boshtrich
. You got owned.
17. BockBlock
"...And then Dwyane Wade crumpled to the ground and grabbed his face, hoping the refs would call a fouls. But they never did. THE END."
16. WadeBlock
As pretty as this dunk is, the first thing I saw when I saw this one was, "Good Lord those shirts are ugly."
15. Reverse No-Look Ally Oop
Yeah, there is no such thing as a wide-open three when Anthony Davis is on the floor. He might be the fastest big man in the leage.
14. Wide Open Three?
Anthony Davis isn't all highlight reel jams. The guy has now added slick moves to his arsenal.
13. Offensive Skillz
Everyone always says LeBron could play any position, including center if he were bigger. But this is even more true for Anthony Davis. The kid can (and does) play power foward and center, and he can also handle small forward.
12. Davis Drives the Lane Again
I remember this one so clearly. It felt like Anthony Davis was in the air for thirty seconds.
11. Epic JayhawkBlock
Two-on-four rush? No problem. Just throw it up there and Anthony Davis will get there.
10. Another Ally Oop
See? Anthony Davis is not human. He is actually an alien, and this is him learning how to laugh.
9. Infectious Laughter If you're keeping score at home, that's six blocks in one game against the Lakers. Yes, the Lakers are terrible, but come on!
8. Davis Blocks ALL the Lakers
That is the definition of a monster jam. I would buy a ticket to a Pelicans game just to see this one play.
7. Air Davis
I knew it.
6. Unibrow Explained
New Orleans lost their game against Portland last week, but Davis was a BEAST. The highlight of his game had to be this INSANE sequence in which he blocked two shots in one and a half seconds.
5. Back-to-Back Blocks
Just look at that. Chandler Parsons was literally all alone over there. Then he took one step back to get beyond the three-point arc and, before he knew it, Anthony Davis was right on top of him. Note the cute fake shot, too. Like Anthony Davis was going to buy that.
4. Closing Ground
That is sick. Let's see it from another angle...
3. One-Handed Ally Oop Dunk, Part 1
Yep, still sick.
2. One-Handed Ally Oop Dunk, Part 2
Tony Parker makes a lot of people
look stupid
. He's even
gotten the best of Anthony Davis
before. Not this time, though. This time Davis prevailed. And I suspect he's going to prevail a 
lot
more in the coming years.
1. ParkerBlock
Tags:
Comments