9 Photos Documenting The Jay Cutler Descent Into Madness
While the year may be winding down for most teams, the Jay Cutler descent is reaching a fever pitch following Monday's 31-15 loss to New Orleans. While the Bears record isn't embarrassing at 5-9 (it's just really bad), things seem to be snowballing against him. The media aren't paying much attention to him, and when they are they're urging the front office to either cut him or kill themselves.
I'm not even sure RGIII would trade places with Cutler. Just kidding. Of course he would. He would do anything to get out of D.C. But this Jay Cutler descent is very real, and I intend to demonstrate the man's collapse through a series of pictures. They're not in any particular chronological order. The first one is, in fact, his rookie year, then all subsequent photos were selected to best display his next step into the abyss.
Intro
When the Bears picked up Cutler from the Broncos, I wouldn't say hopes were high, but no one was expecting the outcome that was to follow. Year after year of mediocrity may not have made Cutler the next Rex Grossman (we're not going overboard here) but no one expected him to establish himself year after year as the poor man's Tony Romo. That's a position that was previously held by Tony Romo.
Chapter 1: The Agony and The Anguish
This is another picture from his first day as a Bear. He had no idea what the Chicago sports media, the Bears fans, and unrealistic expectations for his team would bring him. This would be the last time that anyone ever saw Jay Cutler smile at a press conference.
Chapter 2: Cutler as the Happy Young Republican
Trouble in paradise. Jay Cutler finds that he's remaining the starting QB only because he's a tiny half-step above journeyman, which is a troublesome proposition, because, sure, you're in the starting spot, but you're constantly feeling for your job, and suffering indignities in the local press. Fortunately, the Bears never assembled a decent QB replacement or grooming strategy for the backups, so his job was safe, leaving him with just the barrage of criticisms. Yay!
Chapter 3: The Storm Clouds Gather
I don't know what lead to this picture, but I'm guessing it was Cutler, trying to go all Section 8 and refusing to start, jamming something in his eye. However, Cutler with a bleeding eye is still better than any of the Bears backup options, so he went on to play and throw 13 interceptions and 2 touchdowns with 56 total passing yards.
Chapter 4: Lord Give Me The Strength
And then it hits him. He can never leave. It's like Groundhog Day, only everyone is watching and aware. He and his team will be JUST good enough to make firing him and the coaching staff a low priority, and they will coast on the loyalty of the fans. It's called the Cubs Strategy, but it turns out people don't like the Bears when they're losing, so that strategy sucks.
Chapter 5: In Over My Head
When this picture was taken, it was August and 86 degrees in training camp. Cutler's body, like the fans, was beginning to betray him.
Chapter 6: Heart Gone Cold
Here, was see poor Jay looking like an opiate addict. Pale complexion. Sunken eyes. The man plays professional football for a living. He shouldn't look like this. This picture captures an especially pathetic moment in which he proclaimed during a game, "I'm a Chicago Bear...NO MORE!!!" Then he tried to rip off his jersey from the neck, but was too weak. Also, his voice had given out several days before, so no one heard his proclamation. So he just kept on being a Bear.
Chapter 7: Numb(er 6)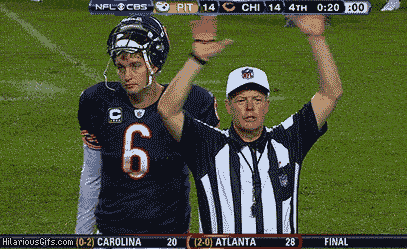 This is it. This sets the tone for the Jay Cutler era in Chicago. He gets his helmet knocked off after walking straight into a ref's waving arms. His reaction is simply complete confusion, and a look on his face that says, "Yeah, this might as well happen to me." Then he catches his helmet, demonstrating enough proficiency that he's not humiliated, but just slowly losing his soul and confidence.
Chapter 8: Insult to Injury
"If I can't see the fans, then they're not mad at me."
Chapter 9: Resignation
Tags:
Comments