Travis Kelce Lost a Rodeo Dance Contest to a Guy Who Calls Himself "Skim Milk" (Video)
Kansas City Chiefs tight end Travis Kelce made a few awesome headlines this year with his Ric Flair TD celebrations and inappropriate hand gestures. Now he's gone and made another awesome headline by competing in a rodeo dance contest…and losing to a guy who goes by the nickname "Skim Milk."
The rodeo in question was last Friday's Professional Bull Riders event in Kansas City, MO. At every PBR event, the rodeo clowns hold a dance-off between some local person of note and a random fan in the stands, with the winner taking home a custom Cooper Tire "Fan of the Night" belt buckle hand crafted by Montana Silver Smiths. (Oooooo.) At Friday's event—the PRB Built Ford Tough Series Caterpillar Classic—Kelce was the local celebrity of note.
The Chiefs tight end performed admirably, dancing his heart out to "It's Not Unusual" by the legendary Tom Jones. But unfortunately, his performance could not hold a flame to that of Skim Milk, who danced to "Sexy Back" by Justin Timberlake.
See for yourself:
Wow. Let's take a look at that again: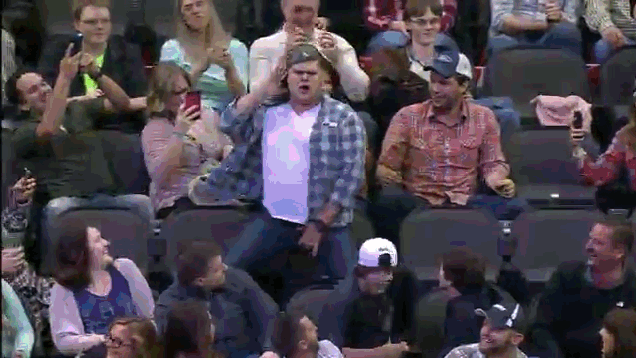 I'm going to go out on a limb and say that's one of the greatest rodeo dance contest performances of all time. Hats off to Skim Milk.
Hat Tip – [Deadspin]
Tags:
Comments